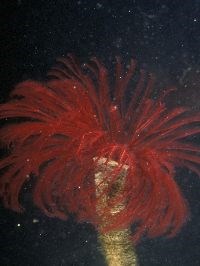 A fortunate combination of characteristics make seas of the Glacier Bay region immensely productive. The waters of the adjacent Pacific Ocean warm and enrich the waters locally, which are then further fertilized by nutrient runoff from the land. Complicated shoreline and bottom topography combine with exceptionally high tidal energies to produce strong currents that stir nutrients to the surface making it more available.
Two other factors are necessary to translate nutrients into productivity: enough light for plant plankton to photosynthesize rapidly, and enough water column stability to allow these tiny organisms to stay in the zone of light near the surface. All these factors come together in spring and early summer. Then, for a few weeks, the concentrations of plant plankton reach astronomical proportions. Many animal plankton (e.g., krill, copepods) and bottom-dwelling invertebrates (e.g., starfish, sea urchins, worms, and clams) time their reproduction to coincide with this brief time of plenty. Vast shoals of small fishes such as herring, capelin and sand lance in turn feed upon this animal plankton. Salmon, sea lions, porpoises, cormorants, and murrelets forage on the fishes, while humpback whales come from Hawaii and Baja California to harvest small fish and the plankton by the ton.
Seaweed and salt-marsh vegetation also begins to grow in early spring. They support an abundance of grazers, from deer and geese (at low tide) to snails (at high). When this vegetation decomposes, it produces detritus for bottom-dwellers like worms and sand fleas.