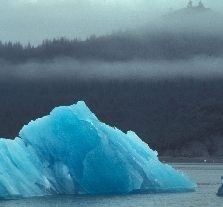 For decades there had been talk of elevating Glacier Bay's status to that of national park. The Alaska National Interest Lands Conservation Act of 1980 finally achieved this goal, and also extended the park boundary northwest to the Alsek River and Dry Bay.
Further protection and recognition of Glacier Bay's significance occurred in 1986, when the Glacier Bay-Admiralty Island Biosphere Reserve was established under the United Nations Man and the Biosphere Program. In 1992 Glacier Bay became part of an international World Heritage Site, along with neighboring Wrangell-St. Elias National Park and Canada's Kluane National Park.
In the nearly 75 years since Calvin Coolidge took up his pen, the forces of controversy and compromise have forged a mature national park, which nonetheless continues to evolve. The national and global significance of Glacier Bay has been well established, and its preservation assured. But the devil is in the details. The human drama of the park has always focused on finding an equitable balance among three potentially conflicting arenas: preserving this irreplaceable treasure "unimpaired for the enjoyment of future generations", defining and accommodating legitimate local uses, and providing for the needs of the visiting public.