Frequently Asked Questions - CUA's
What is a Commercial Use Authorization (CUA)?
Public Law 105-391, Section 418, which was signed in 1998, provides for the issuance of Commercial Use Authorizations (CUAs) to a private person, corporation, or other entity to provide appropriate commercial services to visitors of units of the National Park Service. Commercial Services are generally prohibited in units of the National Park Service (NPS) unless they have been authorized by either a CUA or a concession contract.

There are two general types of commercial services that may be authorized by a CUA:
In-park services. "In-park services" refers to an operation with annual gross receipts of not more than $25,000 from commercial services originating and provided solely within a park area.
Out-of-park services. "Out-of-park "services" refers to the incidental use of park area resources by operations that provide commercial services originating and terminating outside of the park area (or within an inholding). A CUA of this type may not authorize solicitation of customers, sales, or payment for commercial services to take place within the park area; all of these activities must occur outside of the park area (or within an inholding). Unlike a CUA for in-park services, there is no cap on the annual gross receipts that may be generated by the authorized services under an out of-park CUA.



What criteria must commercial operations meet to qualify for a CUA?
The activity authorized must be appropriate to the preservation of the park and be consistent with all park management plans.
Commercial operators must be based out of the park. Services must start and terminate outside of the park, with the exception of concession lodging facilities or certain "In-park services" with annual gross receipts of not more than $25,000. All aspects of the business (such as advertising, exchange of money, etc.) must take place outside the park boundary. Authorization holders may not construct any facilities within the park, including temporary tent/canopy structures. The services provided may not conflict with the services provided by concessioners under contract or the National Park Service's operations.
Authorization holders must comply with all applicable state, local and National Park Service laws in the conduct of their business. The Superintendent's Compendium, which details park-level regulations and is subject to change annually, can be found at: Superintendent's Compendium
All CUA holders must comply with the operating plan and CUA conditions for their authorization category. Holders are responsible for reading and understanding the contents of their CUA operating plan and conditions.
Any proposed new services for Glacier Bay NP & P must meet, at the minimum, the above criteria. Park Superientendent grants final approvial for new services. Do you wish to propose a new service? Please contact Glacier Bay Commercial Services for additional assistance.
Note: The National Park Service monitors activities authorized through CUAs. Any violation of CUA conditions or operating plan requirements is grounds for revoking the current authorization and/or not issuing future authorizations under the authority of the park Superintendent.
What CUA Services are Authorized in Glacier Bay National Park and Preserve?
The following services are authorized in Glacier Bay National Park and Preserve:
| | | |
| --- | --- | --- |
| Service Type | Activity Code | Land Based Guiding |
| Group Camping - Bartlett Cove Campground | GC | Overnight camping in the Bartlett Cove campground in designated group campsites. |
| Guided Backcountry | BP | Hiking, backpacking and overnight camping in areas of the Park's backcountry. Does not involve the use of improved campground facilities. |
| Guided Day Hiking | GH | Guided walking and sightseeing day tours on approved trails in the Park Frontcountry. |
| Guided Mountaineering- Fairweather Range | MTF | This area includes the area west of the Brady Glacier, west of Lamplugh Glacier and west of the ridge between Tarr and Rendu Inlets and involves activities that involve rock, ice, or snow climbing and/or glacier travel requiring the use of ropes, ice axes, harnesses, climbing hardware, crampons, specialized clothing, etc. |
| Guided Photography | PH | Trips organized with the primary intention of taking photographs in or of the park unit. It is understood that incidental photography occurs during most commercial activities, a permit for incidental photography is not required. |
| Guided Winter Activities | SK,SN | Skiing, snowshoeing, and hiking on snow. |
| Service Type | Activity Code | WATER-RELATED ACTIVITIES |
| Boating Trips | BT | Glacier Bay National Preserve only. Guided motorized or non-motorized vessel (other than kayak, charter boat, water taxi or ferry service) and not including the provision of on-board overnight lodging. |
| Guided Alsek River Rafting Trips | RR | Multi-day Guided river rafting trips with take outs in Dry Bay, Glacier Bay National Preserve. |
| Guided Kayaking | KT | Guided overnight and day kayaking services, Glacier Bay proper - Sept 1 to May 31 only. |
| Guided Sportfishing | SF | Guided recreational activity involving the taking of or attempting to take for personal use, and not for sale or barter, any freshwater, marine, or anadromous fish by hook and line held in the hand, or by hook and line with the line attached to a pole or rod which is held in the hand or closely attended or by other means defined by the Alaska Board of Fisheries. Freshwater sport fishing guide services are authorized only in Glacier Bay National Preserve and the section of Glacier Bay National Park along the outer coast north and west of Lituya Bay. |
| SERVICE TYPE | CODE | AIR and WATER TRANSPORTATION |
| Air Taxi | AT | FAA certified business that engages in air transportation with landings within park boundaries. A permit is not required for flightseeing trips that do not land within park boundaries. |
| Passenger Ferry | FS | Juneau-Bartlett Cove-Juneau only. |
| Vehicle Transportation | SH | Point-to-point ground transportation only; passengers are dropped off or picked up in specified areas. No guiding occurs. ATV ground transportation services in Dry Bay related to Alsek River Rafting trips only. |
Note: Guided service providers must have current Basic First Aid & CPR certification

How are CUA Fees assessed?
CUA holders will be charged a reasonable fee to ensure program cost recovery and for the identifiable economic privileges received from conducting business inside Glacier Bay National Park.


2019 Glacier Bay Commercial Use Authorization Fee Schedule
Application Fee - Due with Application

One Year CUA

$200

Two Year CUA

$300

Management Fee - Due with Application

One Year CUA

$100

Two Year CUA

$200

Monitoring Fee for Alsek River Rafting Operators, Due Nov 15

Greater of $100 or $32 USD per person

Fee Payments for Glacier Bay National Park and Preserve CUAs can be made online via www.pay.gov-Alaska Region Commercial Use Authorization Fees Form. Go here for Pay.gov instructions: https://pay.gov/public/form/start/21561032.

Why does the Park charge a fee for a CUA
Public Law 105-391 and National Park Service policy require the Superintendent to charge a reasonable fee for CUAs. The park retains 100% of the fees to help pay for the cost of the GLBA CUA program, including administration, evaluations, monitoring and training.

How long does it take to obtain a CUA?
You should anticipate that you will receive the issuance of a CUA from December 1 to April 1 (dependent upon time of application submission). The actual time required for issuance is a minimum of 30 days. Delays will occur if application materials are not submitted accurately or completely at the initial submittal, or if authorizations needing operator signature are not returned promptly. The most common item that may cause delays is the late submission of guide certifications such as required first aid and CPR cards.

For what length of time is a CUA issued?
CUAs are currently issued for a period of one or two year periods. The application period is November 1 through April 30 of each year. The operating year is from January 1 to December 31. CUA applications received at glba_concessions@nps.gov or post-marked after March 1 will not be accepted.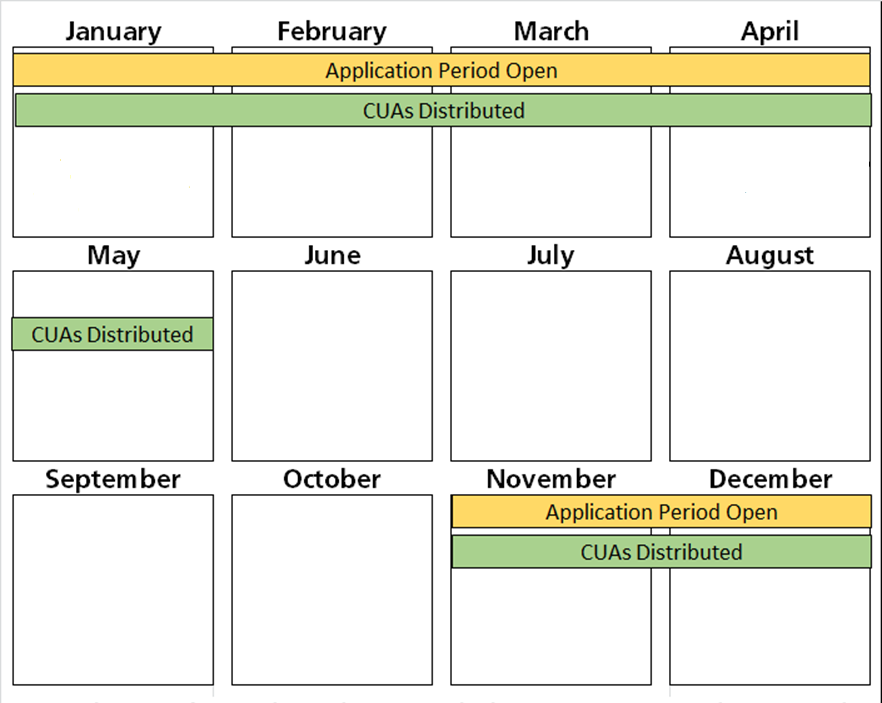 What happens if I want more than one CUA?
You do not need a CUA for each service category. Businesses may apply for multiple activities within a Service Category and pay one application and monitoring fee for either a one or two year CUA.

What are the insurance requirements?
Comprehensive general liability coverage is required for all CUA's. Please refer to the Minimum Coverage Amounts for Liability Insurance for minimum coverage amounts by type of activity. The policy shall be underwritten by a United States company naming the United States of America as an additional insured.

What are activity reports and when are they due?
CUA holders are required to submit Activity Reports to provide the NPS with data on visitor use such as the number of clients, dates and locations of the commercial activities. The Activity Reports are due on a monthly and annual basis. Specific due dates are activity dependent. The required forms are provided on the Glacier Bay CUA website.

How do I submit an application?
Review all items in the CUA Application checklist. Once you have all of the required documentation, you can submit electronically or by mail:
The application process, forms, directions, requirements and other related information can all be found at Glacier Bay CUA website.

What happens once I submit an application?
Once we've received all required documents and reviewed your application, we will send you an email followed by a CUA pre-authorization form you must sign and return.

Sign and return the CUA pre-authorization form for final approval by the park Superintendent. Superintendent approval may take up to several weeks.

Upon receipt of your approved, fully executed CUA Permit and Authorized Guides List, you may begin operations in Glacier Bay National Park within your authorization dates. Without this final, fully executed permit you are not allowed to operate in Glacier Bay National Park.
How do I make Fee Payments?
Fee Payments for Glacier Bay National Park and Preserve CUAs can be made online via www.pay.gov-Alaska Region Commercial Use Authorization Fees Form. Go here for Pay.gov instructions: https://pay.gov/public/form/start/21561032.
Last updated: November 13, 2018