As the Science Communications Specialist for the
Ocean Alaska Science and Learning Center
, a division of the National Park Service, I was sent to Glacier Bay National Park and Preserve to learn about their research projects. This is one of three blogs based on my experiences while there.
"10:00 o'clock!" comes a subtly triumphant decree from the wheel house. With that, the boat takes a sharp turn to port and we jet off in a new direction. I am in a tiny (and
vulnerable
to my mind) vessel on the bay with researcher Janet Neilson to witness humpback whale research first hand. We have been scanning the waters for activity for a couple of hours – to no avail. Suddenly she has spotted something. Number 1302 she suspects, a 25-year-old female they have been tracking since she was a calf, has surfaced.  
Ripples on the water betray her last location. Within minutes we are a mere 50 yards from where the massive creature came up. Our boat sits so low in the water that if she were to surface any closer, I feel as if I could look her in the eye. Not that I want to.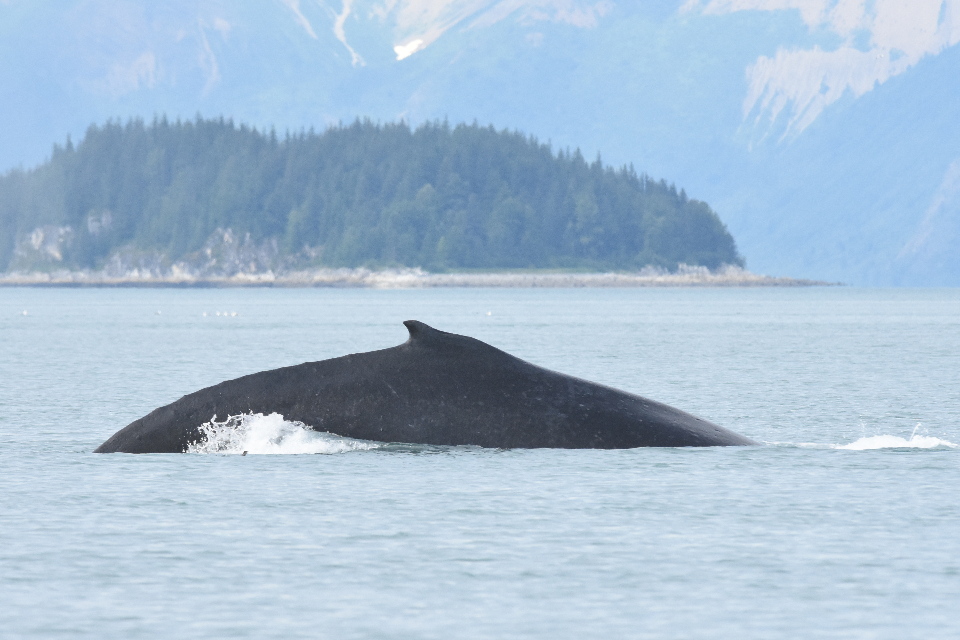 Humpback whale #1302 surfaces up close and personal near the park's whale research vessel during my trip in Glacier Bay. NPS photo taken under National Marine Fisheries Service Research Permit 15844.
Janet, Christine Gabriele, and Lou Taylor-Thomas make up Glacier Bay's team of whale researchers in one of the longest continuous humpback monitoring programs in the world. Between the three of them they are on the bay multiple days a week from April through late October. The data they collect helps the park keep track of the whales and gain valuable insight into their status. Though their numbers have rebounded in the past few years, these marine mammals are still susceptible to human impacts, particularly in a park where most visitors come by boat. Armed with such up-to-the minute information, park management can take decisive action to protect them. Each summer, for example, they issue several "whale waters actions," setting vessel speed or course restrictions in areas where whales have congregated to feed. Such limits reduce underwater noise and help prevent disturbance and collisions.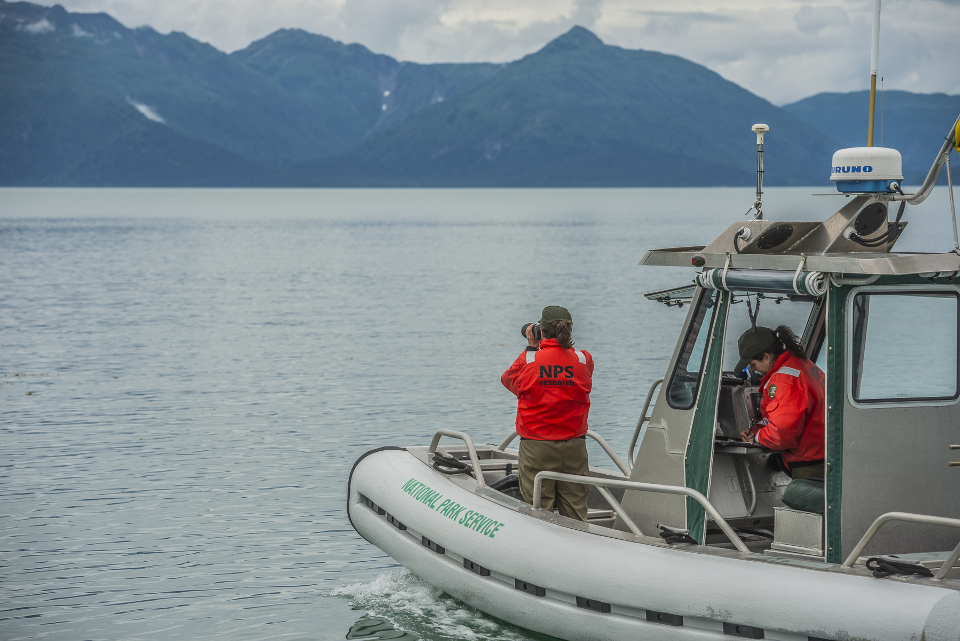 Biologists aboard research vessel 
Sand Lance
 carefully approach humpback whales to photograph and observe them for population monitoring purposes. Sighting histories of individual whales reveal their behavioral and life history traits.   Photo by Mark Kelley
Suddenly the humpback erupts again from beneath the waves. It's not a full breach, but we get a good look at her long, sleek back. As she glides back into the water, it begins to sink in to me how
big
this thing is. My heart is pounding. I've never seriously considered what it would be like to depend on my float coat for survival were we to be flipped by, say, a
mischievous
underwater behemoth. I do now. My hand unconsciously seeks the whistle attached to my coat zipper…as if blowing it out here, with no one around for miles, would do me one bit of good.
Janet has no such concerns. Keeping the engine running, even quietly, she explains, signals our location, and helps prevent such mishaps. Clearly in her element, she steers the boat expertly, snapping photos and estimating where the humpback will surface again; all while keeping an eye on the horizon for other whale activity. Soon she spies another individual and we head off in that direction. In all, we observe four humpbacks over the course of several hours. She records details on their location and activities, and takes multiple photographs of each.
This winter, Janet and Lou will pore over those photos in an attempt to put the puzzle pieces together. Like human fingerprints, tail patterns and dorsal fin markings are unique to each animal. By comparing the images gathered today with a database dating back to 1985, they can determine which ones we saw and glean details about their health and behavior. Like a scrap book, this long-term record provides the park a rare opportunity to observe these whales over the course of their lives.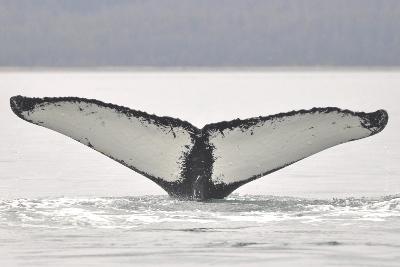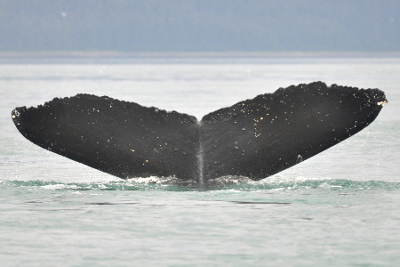 Fluke photographs of whales #1293 and #1302 illustrate how humpback whale's tails vary in color and shape. These features are stable throughout the whales' lives, allowing researchers to recognize them from year to year. The park has been tracking both of these whales since they were first seen as calves over two decades ago. NPS photos taken under National Marine Fisheries Service Research Permit 15844.
"I know their habits," Janet says now, hinting at an intimacy with these enigmatic mammals that few experience. "I feel like I know them as individuals." And, as if referring to kids home from college, she adds, "It's fun watching them return to the bay each year." As she says this, her mouth curls into a smile that seems to reach her eyes. I've seen her face light up many times today, but I feel certain I have never seen her smile in quite this way before. 
 (For more information on Glacier Bay's Whale Monitoring Program, or to learn how you can help protect marine mammals, please visit http://www.nps.gov/glba/naturescience/whales.htm)