With the field work and data collection completed, we've entered a new phase of the collaborative work between Glacier Bay National Park, Oregon State University and Syracuse University which was funded by the National Park Foundation's Alaska Coastal Marine Grant Program.  A
description of the project
was just published today in Alaska Park Science. There are two other Glacier-Bay-related projects described there as well: one on
ocean acidification research
and the other on
whale bone re-articulations
, also funded by the National Park Foundation.
In late October, with excellent assistance from the
MV Lite Weight
crew, we retrieved the four hydrophones that were temporarily moored between Strawberry Island and the Beardslee Islands.  We had waited a few days for good weather and got out to the site at dawn to avoid strong winds. It paid off; the retrieval went quickly and smoothly and we got to see a beautiful sunrise.  It's a shame to be finished with the hydrophone deployments, since our team has gotten really good at it!  The data has been downloaded and we found that all four of the recorders had worked perfectly.  
Now all that's left is to sift through the 182 days of 2016 audio recordings (4,370 hrs for each of the four hydrophones) and localize the humpback whale and seal calls.  That's no problem for the team's crackerjack graduate students: Leanna Mathews and Michelle Fournet. In fact they've already made preliminary estimates of the "source level" (a.k.a. loudness) of the most common harbor seal and humpback whale calls, using the 2015 data and presented it at the recent Acoustical Society of America meeting.  Stay tuned for those results and more.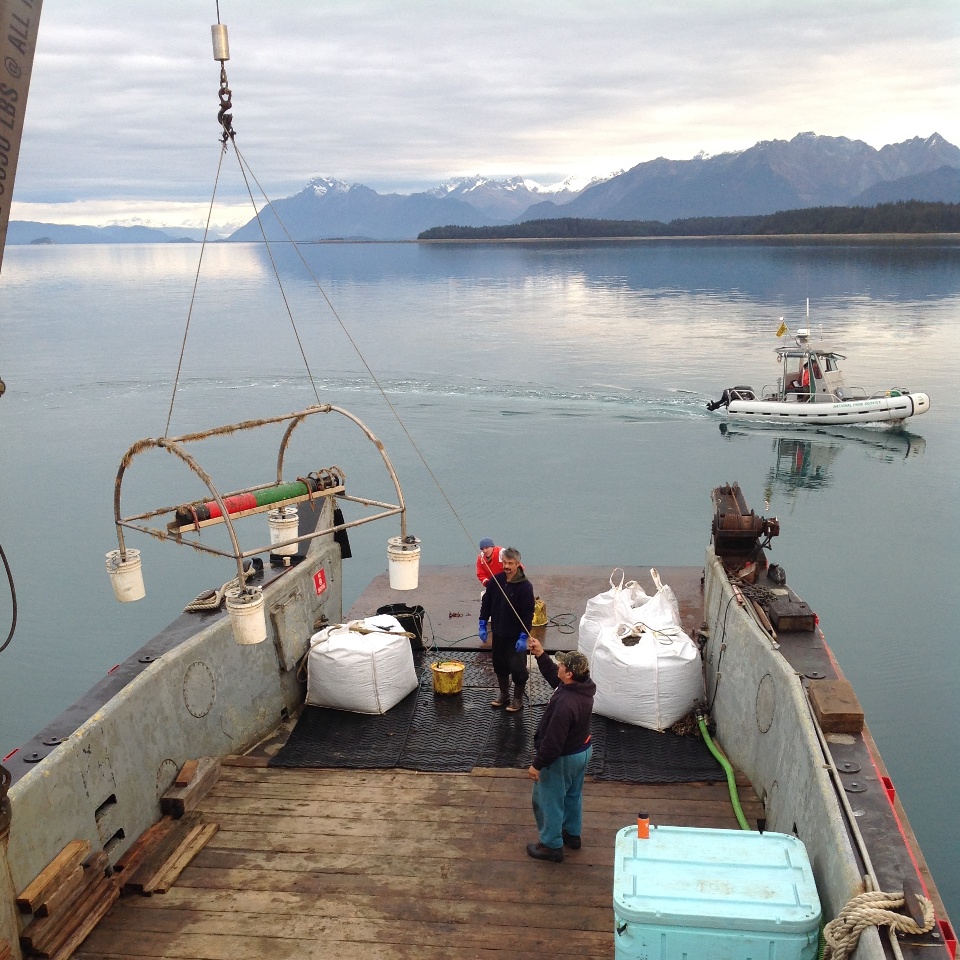 The NPS vessel Sand Lance (Chris Gabriele and Michelle Fournet onboard) sent a signal to each hydrophone mooring to release a marker buoy, then took the yellow buoy onboard.  The team on the Lite Weight (From left: Oregon State field assistant David Culp, Lite Weight crew-members Paul Veler and John Martin Jr., Not shown: Captain Paul Weltzin, NPS biologist Whitney Rapp) took the buoy from the Sand Lance and pulled up each recorder with a crane.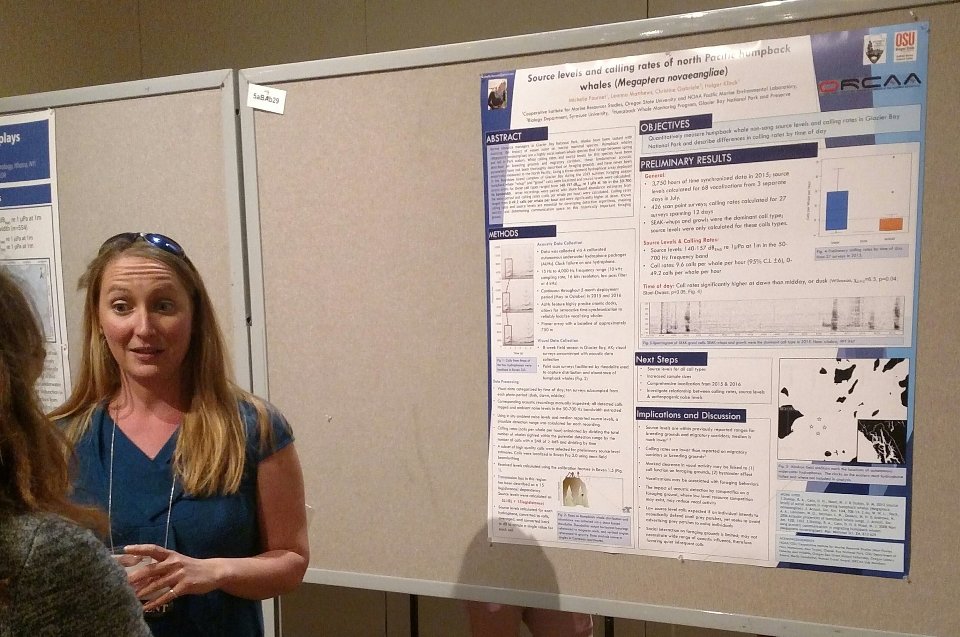 Michelle Fournet talks about her research on humpback vocalizations in Glacier Bay with an interested scientist at the Acoustical Society of America meeting in Honolulu.