Mountain Lion Safety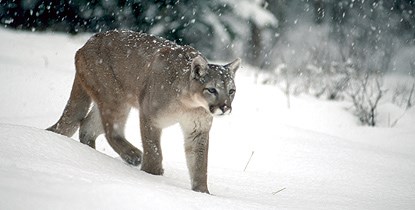 A glimpse of one of these magnificent cats would be a vacation highlight, but you need to take precautions to protect you and your children from an accidental encounter.
Don't hike alone.

Make noise to avoid surprising a lion and keep children close to you at all times.

If you do encounter a lion, do not run. Talk calmly, avert your gaze, stand tall, and back away. Unlike with bears, if attack seems imminent, act aggressively. Do not crouch and do not turn away. Lions may be scared away by being struck with rocks or sticks, or by being kicked or hit.
Lions are primarily nocturnal, but they have attacked in broad daylight. They rarely prey on humans, but such behavior occasionally does occur. Children and small adults are particularly vulnerable. Report all mountain lion encounters immediately!
Last updated: July 2, 2016