Many Glacier Hotel Rehabilitation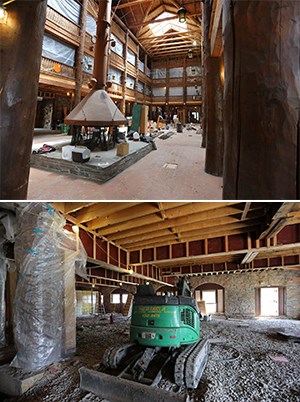 Work is underway to correct health and safety concerns within the National Historic Landmark Many Glacier Hotel. Final phases of rehabilitation began in the fall of 2015 and will continue through 2017. These projects will address safety issues in the main lobby section and the south annex, including new electrical and plumbing systems as well as seismic stabilization. While the necessary life safety issues are being addressed, historical elements will be returned where practical. The most noticeable change to occur in this phase will be bringing the lobby closer to its original design.
During the summer of 2016, approximately half of the Many Glacier Hotel's 211 rooms will be closed due to the construction. The affected rooms are located above the lobby and within Annex II. Additionally, the lobby spaces (including the deck and lake level areas) will be under construction and inaccessible. Work will cease for the winter and restart on April 1, 2017 and is anticipated to be completed no later than June 2017, in time for next year's peak season and the 100th anniversary of Annex II. This work represents the final two phases of a seven-phase plan that has been implemented over the past 15 years, with significant components completed in 2005 and 2012.
Glacier National Park Lodges (Xanterra), the concessioner who operates the hotel as part of a NPS concessions contract, will be providing check-in and other guest functions in the Interlaken Lounge area. The front doors and portico will be impacted, and the main entrance to the hotel will be temporarily moved to the northern half of the building. Traffic patterns for arriving and departing guests may be altered but directional signs will be posted. The upper parking lot will remain available for guest parking.
While construction hours will be limited, work will be ongoing on the hotel during the entire summer season. Visitors will encounter some daytime construction-related noise, visible construction staging areas, and areas closed to entry.
Read the April 2016 news release for further information about the project.
Last updated: May 31, 2017