Visiting Goat Haunt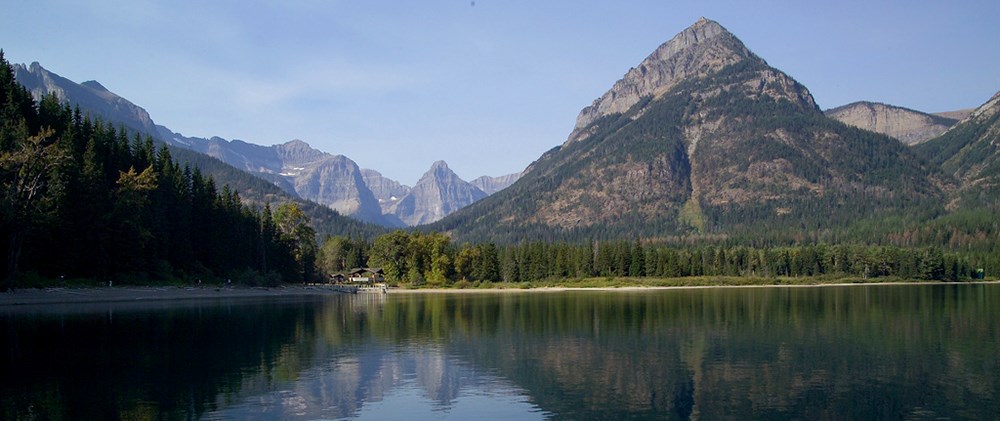 Traveling to Goat Haunt
Visiting Goat Haunt, one of the park's more remote and tranquil locations, offers opportunities to explore Glacier away from the crowds. Visitors to Goat Haunt arriving by boat may disembark at the dock and explore the exhibits at the International Peace Park shelter and walk along the paved pathway to the Ranger Station.

Travel to Goat Haunt requires pre-planning and adhearance to U.S. Customs and Border Protection regulations.
All visitors traveling to Goat Haunt must report their entry to Customs and Border Protection (CBP) through the CBP ROAM app using their personal device, or by using a tablet at a partner location in Waterton Townsite. This can be completed up to five hours prior to entry. The only exception to this regulation is those who travel to Goat Haunt on a round-trip ferry ride, via Waterton Inter-Nation Shoreline Cruise Co., and do not plan on staying longer than 30 minutes or hiking past the Goat Haunt Ranger Station.

What Is CPB ROAM?
CPB ROAM is a free mobile application that allows pleasure boaters, and other travelers arriving in limited remote locations, to report their U.S. entry to U.S. Customs and Border Protection. Travelers can download the CBP ROAM app and conveniently report their U.S. entry using a personal smart device. Traveler and conveyance profiles can be saved for future trips. The app provides remote interview functionallity for video chat with CBP Officers. You will receive confirmation of entry approval and required next steps via email.

Download Instructions
Download CBP ROAM app via the Google Play or Apple App Store.
Sign up for a login.gov account or log in using existing credentials
Enter biographic information, conveyance information, and answer declaration questions.
Video chat with a CBP Officer, as requested
Receive entry approval or next steps via email.
How To Use It
You will need to be in a location with cell service (Does your cell service plan include Canada?) or WiFi to download the app. There is limited cell service along the lake trail. There are tablets available to use at two partner locations in Waterton Townsite. The Tamarack, at 214 Mt. View Rd., and Rocky Mountain General Store, at 307 Wind Flower Ave., both have tablets for visitors to use. These iPads provide an alternate way for travelers to report their U.S. entry using the CBP ROAM app. A traveler's personal and conveyance information will not be saved. Reporting instructions will be provided at the partner locations. The tablet provides remote interview functionality for video chat with CBP Officers. You will receive confirmation of entry approval and required next steps via email.
All nationalities, regardless of citizenship are eligible to use the Customs and Border Protection ROAM app, but some circumstances require in-person inspection.

Links to U.S. Customs and Border Protection:
Information on visiting Goat Haunt and CBP ROAM
Other U.S. Customs and Border Protection Press Releases
Facilities, Services, and Activities
Drinking water
Restrooms
Ranger Station
Last updated: July 18, 2023