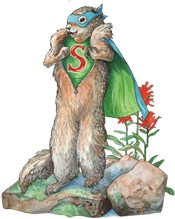 Super Powers Exhibit
The subalpine ecosystem of Logan Pass is home to creatures with amazing abilities. They require special adaptations to survive at this elevation. It's almost like these animals have developed super powers.
Let exhibits outside Logan Pass Visitor Center teach you about how these animals live and how climate change may be making it more and more difficult for them. Or check out our multimedia presentation of the exhibit.