Water Quality

Water quality is reflective of activities taking place upstream of surface waters. In general, water quality is very high in Glacier National Park as it sits at the headwaters of the North American continent. From Triple Divide Peak water flows north to the Hudson Bay, west to the Pacific Ocean and south to the Gulf of Mexico. Glacier's protected mountain landscapes provide clean cold headwaters to the streams and tributaries further downstream. Park waters are classified A1, the highest standard specified by the state water quality bureau. Preserving and protecting water resources, and the plant and animal communities they support, is fundamental to the National Park Service mission. However, water is vulnerable to impacts from outside, as well as within, the park such as road construction, mining, recreational activities, and deposition from atmospheric pollutants.
For example, pollution carried in by rain, snow and airborne particulates is showing up in glacial lakes. This provides park officials the opportunity to integrate water quality monitoring with the monitoring of other vital signs, such as air quality, in the park.
The North and Middle Forks of the Flathead River bound the park on the west and southeast sides, respectively. For the most part, development there is residential, with a low potential for significant water degradation. Commercial and industrial development could be another story. Talks waver back and forth about possible coal mining in the Canadian North Fork, and the effluents from those activities would flow along the entire western edge of the park. As usual, vigilance about the possibilities will determine the future quality of Glacier's water.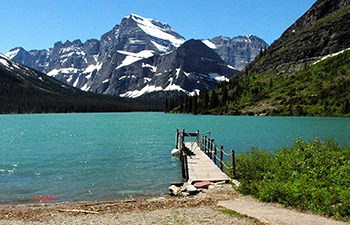 Tell-Tale Teal
Many of Glacier's lakes are cold, sterile and subject to heavy precipitation. Many are also glacially-fed. A key characteristic of glaciers is movement. As they succumb to gravity, they grind and scrape the rock under them into a powder. The finely ground sediment is called glacial flour or rock flour. Through rivers and streams, the flour is carried to the lakes where it is
suspended in the water, then absorbed and scattered by sunlight, giving the water a cloudy, turquoise appearance. As you travel through the park, you'll notice this color on a number of lakes, like Swiftcurrent or St. Mary.
Last updated: June 11, 2016