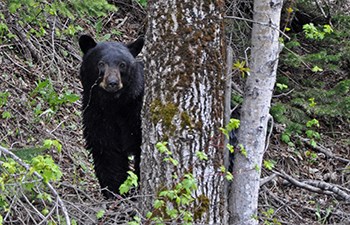 Black Bears
Ursus americanus
The smallest and most common bear in North America, the American black bear lives primarily in the forests within the Crown of the Continent. Omnivores, their diet consists of vegetation in the form of roots, young shoots from trees, shrubs, berries, fruits, grasses, nuts and buds, along with insects and even the occasional carcass. They also raid the nut caches of squirrels, steal eggs from bird nests, and dig honeycombs out from trees. Black bears remain dormant in dens for the winter months, reducing their metabolism and going without eating, drinking, urinating or defecating until spring.
Color: Can be black, blond, brown, or cinnamon in color
Weight: Adult males 180-250lbs, sometimes up to 400lbs; females 120-180lbs
Top speed: 35 mph
Lifespan: Average is 18 years, some live as long as 25 years
Appearance: Their snout is straighter from tip of nose to ears. Their claws are short (about 1.5 inches) and curved, making them good for climbing trees.
Habitat: Black bears spend most of their time in forests but move around looking for food. They can also be found in avalanche chutes, mountain meadows, or areas where berry bushes are plentiful.
Diet: A black bear's diet changes with the seasons. In the spring bears eat mostly grasses; in the summer they like leafy, green plants and fruits; and in the fall they look for berries and nuts. They will also eat fruits, insects, honey, eggs, carrion, rodents, and young deer or elk when available.
Reproduction: Mating season is May-August. Females breed every 2-3 years and give birth to 1-3 cubs in their winter den in January or February. Cubs weigh 1lb. at birth but can weigh as much as 165lbs. (if good food sources are available) by their first fall. Cubs stay with their mother for about 2 years. Females often have their cubs when they are about 6 years old.