2024 Visitor Use Management Strategy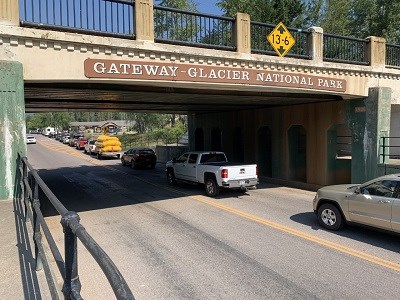 Overview
The National Park Service mission calls for us to provide the best possible access to meaningful and enjoyable experiences while preserving the resources that make Glacier special. In recent years, achieving that mission has gotten more complex due to growth in visitation and changing use patterns. While this increase means that more people are exploring and connecting with the park, it also presents diverse challenges like crowding and congestion and difficulty providing timely emergency responses. It also has impacts on the park's resources such as iconic wildlife, tribal connections, the scenic glaciated landscape, the park's historic infrastructure such as Going-to-the-Sun Road, and facilities such as water and waste disposal systems.
We've used a variety of tools to address these challenges over the years. Most recently, we've piloted a series of different reservation systems during the last three summers. We've learned a lot from these pilots—now, we'd like to hear from you.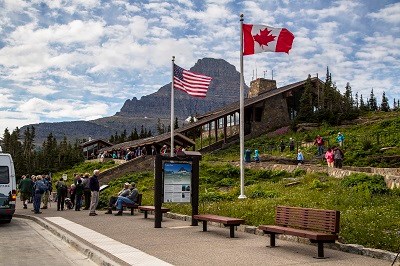 Public Outreach
Engaging with the public is an important part of this process and is essential when exploring management alternatives. We want to hear what has worked best, what could be improved, and what possibilities you would like to see at Glacier for the summer of 2024.
Your input will help to inform our strategies for how visitors will access park areas in the summer of 2024. You can expect to hear more about how to visit the park next summer after we have reviewed and considered your input later this fall.
Learn how to participate by going to the project website.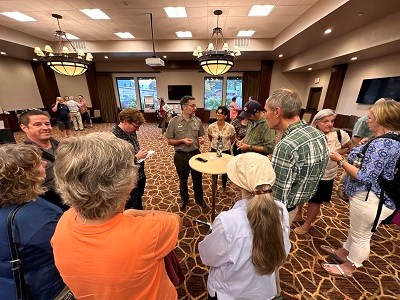 Public Meetings and Open Houses
Glacier National Park hosted two in-person open houses in August 2023 to allow visitors to chat with park staff in an interactive setting, learn more about the process, and provide informal feedback.

The park also hosted a virtual meeting on August 23, 2023 which was recorded and can be found here:https://youtu.be/uJXiCula4ZM.

Missed the meetings? No worries! You can still participate by watching the virtual meeting, visiting the storymap for this project, and providing your comments on the project website by September 30, 2023.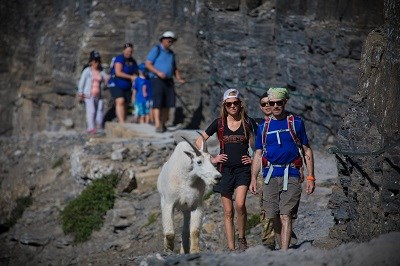 Key Issues
Park managers have identified the following six issues related to increasing visitor use at the park:
Traffic Congestion and Visitor Movement Challenges
Road and Valley Closures as a Result of Traffic Congestion
Staff Capacity and Visitor Use Impacts on Park Operations
Infrastructure Capacity and Visitor Use Impacts on Aging Facilities
Visitor Use Impacts on Natural and Cultural Resources
Impacts on the Quality of Visitor Experience at Key Destinations
You can read more details about each of the key issues on the project's storymap.
Timeline
Public input will help inform summer 2024 visitor use strategies. Information about summer 2024 will be shared later this fall after we have heard from the public. Strategies for 2024 may differ from strategies in the future.
We will move deliberately during this process to make an informed decision. That decision will ultimately depend on a variety of inputs including:
Lessons learned from the last three summers of managed access pilots
Visitor use monitoring and social science research
Feedback from local businesses and communities
Law, regulation, and policies that pertain to the National Park Service
Feedback from the public, tribes, park partners, and stakeholders
Ultimately, there may be a variety of perspectives, but the National Park Service will do it's best to consider all relevant factors to make the best possible decisions for 2024.
Frequently Asked Questions
Why is this public engagement process needed?  
The park has seen increasing visitor use for years. These impacts include traffic congestion, visitor movement challenges, and road and valley closures as a result of traffic congestion. Increased visitation has impacts on park staffing, park operations such as water systems and emergency response, infrastructure capacity, and visitor use impacts on aging facilities. High visitation also has impacts on natural and cultural resources and the quality of visitor experience at key destinations.
The National Park Service believes that managed access and related strategies may be needed in high-demand areas where other strategies have not been sufficient to ensure high-quality experiences, visitor safety, and resource protection.

What is managed access? 
Managed access is a suite of tools that help pace the timing and volume of visitation into areas to optimize access, ensure quality experiences, and protect resources. Examples of managed access on a park entry scale include the vehicle reservation systems and ticketed entry the park has piloted in recent years. Some examples of managed access strategies have been in place for a long time, including wilderness permits, campground reservations, and even lodging reservations. Managed access and related strategies are not a standalone solution. This public engagement process will carefully evaluate many different tools and techniques that would be most effective to help Glacier improve how visitors get to and experience the park's significant resources and features.

Has the park begun a formal planning effort?
No. The park is seeking public input to inform what visitor access will look like in 2024.

What about the Going-to-the-Sun Road Management Plan?
In response to the trend of increased park visitation, stress on infrastructure, and road congestion, the NPS developed the Going-to-the-Sun Road Corridor Management Plan, which was completed in 2019. The plan considered managing vehicles in the Going-to-the-Sun Road Corridor and included strategies to better manage visitation, such as: 
metering traffic 
designating parking for day use 
implementing a phased day use parking permit system 
configuring dynamic parking, such as redesignating campground loops for parking during peak use times 
widening approach roads and expanding parking lots 
constructing additional miles of trail and designating heavily trafficked portions for one-way travel 
adding restrooms 
extending operation hours at visitor centers 
providing improved trip planning information 
The Going-to-the-Sun Road Corridor Management Plan is still being implemented and it notes a reservation system for the corridor may be needed in the future. Park managers are interested to learn if any of the strategies included in the plan are still of interest to the public for summer 2024.

What kind of input are you looking for?
This process is not about "voting," but rather about an exchange of ideas so we can be sure we've considered all the options and understand all the perspectives before determining next steps. We are open to a broad and diverse spectrum of input and want to hear your thoughts.
During three years of the managed access pilots, we've heard some positive feedback, as well as some frustration, about various aspects of the managed access pilots. We would also like to know more about the underlying causes of visitors' experiences, both positive and negative. The best way to share your input is to visit the project website and follow the instructions to provide feedback.
2024 Visitor Use Management Strategy StoryMap
Last updated: September 27, 2023