Mission 66
The 1950s marked a turning point for national parks. A post-war America was booming and people were recreating like never before. To meet increased public demand and to prepare for the 50th Anniversary of the National Park Service in 1966, park directors enacted an ambitious 10 year plan to modernize and expand park infrastructure nationwide. The program was called
Mission 66
.
Background
For Glacier, the decades leading to Mission 66 were much like those in the rest of the country. During the Great Depression, park visitation dropped. Some accommodations did not even open for business. Though visitors were few in the 1930s, Civilian Conservation Corps workers were many. Work camps were set up in parks across the country, Glacier included. Roads, trails, and buildings were built or improved in a "rustic" architectural style that capitalized on the cheap and plentiful labor force.
Once the war ended, the country's economy boomed and Americans took to the new interstate highways in great numbers. Glacier already boasted Rising Sun and Swiftcurrent Auto Camps, but much was still to be done to accommodate the increased visitation and the increased staffing Glacier required.
National Park Service Director Conrad Wirth saw similar needs throughout the park system. His Mission 66 program proposal called for millions of dollars to be spent on visitor centers, ranger stations, employee housing, concession buildings, landscape development, roads, and trails—not only new construction, but on repairs, better maintenance, and more staff.
Mission 66 Nationwide
Between 1945 and 1973, over $1 billion was spent on improvements to parks. Many were infrastructure related, while some improvements were in resource management philosophy.
An almost 40% increase in the number of park units
Over a thousand new homes for park employees built (like West Glacier's neighborhood of ranch-style houses)
Hundreds of administrative buildings and comfort stations built
The creation of park standards throughout the National Park System; visitors could expect the same basic facilities in every park
Major projects: Blue Ridge Parkway, VA; Camas Road, MT; and Gateway Arch in St. Louis, MO
Creation of the "visitor center"—approximately 100 were constructed
Visitor Centers
Having outgrown their small, log cabin-style rustic buildings, park rangers needed a new way to greet visitors and share resource information. The concept of a "visitor center" was created during the Mission 66 program. The modern visitor center is a prominently located building where visitor facilities (restrooms, water, information, etc), interpretive programs, exhibits, and administrative offices could all be found under one roof. These new visitor centers gave park buildings a uniform look and exemplified efficiency.
Modern Style
Mid-century Americans were focused on progress. Mission 66 architecture sought to symbolize American progress through efficiency of plan and efficiency of building material. Different schools of thought influenced Mission 66 modern design, but they shared key characteristics:
Emphasis on open spaces full of light and air
Use of some local materials, with introduction of machine produced elements of steel and glass
An effort to blend into the landscape, but through their plainness rather than natural features
Horizontal planes; long and low profile
Absence of applied ornamentation
Flat roofs with projecting flat terraces
International Style principles: columns, roof terraces, free plans, strip windows, and free facades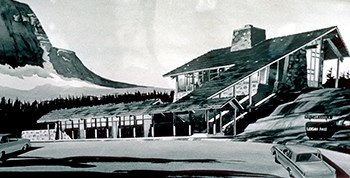 Glacier Visitor Centers
Glacier boasts two Mission 66 visitor centers: St. Mary and Logan Pass. St. Mary Visitor Center was completed in 1967 and is located adjacent to the park entrance. Because these multi-purpose facilities were to be large and obvious, most park visitor centers are found in less sensitive areas, like entrances. Designers wanted to attract drivers for orientation, rather than allowing them to miss key resource information and go aimlessly through the park.
On the other hand, Logan Pass Visitor Center, completed in 1966, sits in the middle of the park. The philosophy behind this location choice, was to put visitors right on top of the resources, allowing visitors to see everything from the visitor center with rangers on hand to explain and interpret.
Burt L. Gewalt, of the firm Brinkman and Lenon, Architects and Engineers of Kalispell, Montana, was responsible for both visitor centers, though preliminary design of Logan Pass Visitor Center was done by Cecil Doty of the National Park Service Western Office of Design and Construction.
Read about Mission 66 visitor centers in other parks.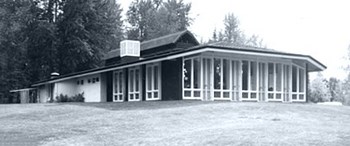 Lake McDonald Lodge Coffee Shop
Designed and constructed in 1965
Like other Mission 66 buildings in Glacier National Park, the coffee shop was designed by Gewalt. Collins Construction Co. of Kalispell built the coffee shop at a cost of $140,130, and it opened to the public along with the Lake McDonald Lodge in 1966. The low profile, one-story, 40' x 100' rectangular facility was designed to reflect the nearby historic Swiss chalet style buildings while incorporating modern materials and construction methods of the Mission 66 era.
Last updated: July 25, 2023