Repeat Photography Trunk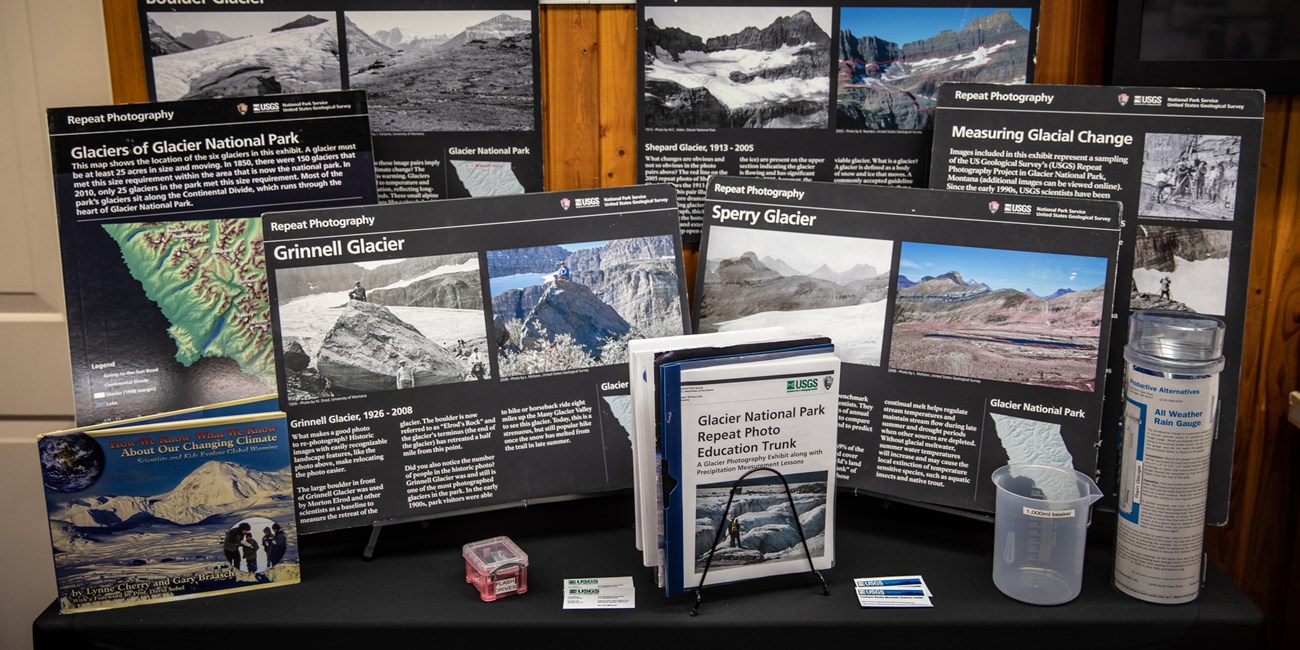 The Repeat Photo Trunk combines photography with precipitation measurement lessons to teach students about Earth's water and energy cycles and the importance of mountain ice. Images included in this exhibit represent a sampling of the US Geological Survey's (USGS) Repeat Photography Project in Glacier, which conveys how much the glaciers have melted, indicating a warming climate.
This trunk was made possible from a grant from NASA's Global Precipitation Measurement Mission. It is designed to get students thinking about measuring precipitation—snow and ice, as well as rain—not just to do it, but why we would want to do it.
Grade
6–9
Contents
Repeat Glacier Photo Panels - There is a panel for each glacier containing the repeat photos linked below as well as a map and explanatory text.
Lesson Plans Associated with this trunk:
Evaluating Glacier and Landscape Change (USGS - Youth and Education in Science), Activity #1 of this lesson complements the repeat photo panels with discussion questions and a student worksheet for image comparison. Additional activities explore the use of satellite imagery to document glacier area change and highlight the concept of "qualitative and quantitative data". High school extension (Activity #4) allows students to draw relationships between CO2 emissions, climate trends, and glacier recession. (Grade 6-9, HS)

How Much Water is in this Snow? This lesson will help students understand how scientists use measurements of mass to calculate water in the snowpack.

Rain Gauge Activity Lesson Plan (Global Precipitation Measurement Mission, NASA) Rain Gauge Activity- In this hands-on inquiry-based activity, students face an engineering challenge based on real-world applications. They are tasked with developing a tool they can use to measure the amount of rain that falls each day.

Fun with Rainfall Measurements (Colorado State Extension). We've included the CoCoRaHS rain gauge in case you and your students want to try measuring rain at your school. Visit the: Community,Collaborative, Rain, Hail and Snow Network—volunteers working together to measure precipitation across the nation at the CoCoRaHS website.
Borrowing Instructions
All of Glacier's traveling trunks are free of charge. The Repeat Photography Trunk is handled in partnership with the USGS and can be mailed; shipping charges may apply. To borrow this trunk and/or arrangement shipment please email the USGS.
Last updated: January 24, 2020