Land of Many Stories Trunk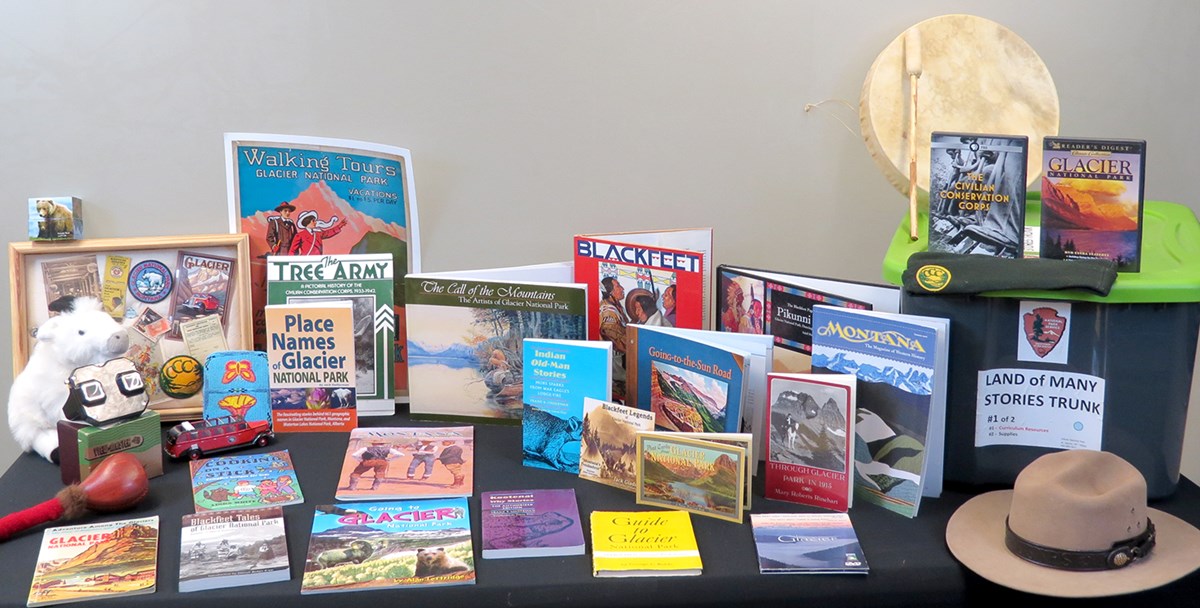 All of the people who have been associated with Glacier left an impact...whether an Indian, explorer, miner, settler, visitor, or Park Service employee...
C. W. Buchholtz, Man in Glacier
Grades
4-12
Contents
The Land of Many Stories Trunk contains all resources needed to complete a seven-lesson unit focusing on the cultural history of the land that is now Glacier National Park. This trunk was created by the Montana Historical Society and sponsored by the Glacier National Park Centennial, National Park Service, Glacier National Park Fund, and BNSF Railway.
Lesson Plans
This curriculum-based unit meets the requirements of the MT State Education Standards for 4th grade Social Studies. However, it can easily be adapted for students in other grades and includes lessons and activities in the following skill areas: reading/writing, drama, groupwork, research, and others. For the full list of standards and skill areas, and to read lesson plans for all seven lessons this curriculum contains, visit the Montana Historical Society foot locker page.
Books and Magazines
Adventure Among the Glaciers: Glacier National Park. Christopherson, E. 1966.
Blackfeet Indians. Linderman, F. 1995. (ISBN: 0517148072)
The Blackfoot Papers-Volume Three: Pikuni Portfolio- Glacier National Park, Dancing, and North American Indian Days. Hungry-Wolf, A. 2006. (ISBN: 0920698840)
Blackfeet Tales of Glacier National Park. Shultz, J.W. 1916. (ISBN: 1931832145)
The Call of the Mountains: Artists of Glacier National Park. Peterson, L.L. 2002. (ISBN: 0963564277)
Cooking on a Stick: Campfire Recipes for Kids. White, L. 1996. (ISBN: 0879057270)
Going to Glacier National Park. Leftridge, A. 2006. (ISBN: 1560373407)
Going-to-the-Sun Road: Glacier National Park's Highway to the Sky. Guthrie, C.W. 2006. (ISBN: 1560373350)
Guide to Glacier-Approved by the National Park Service. Ruhle, G. 1962.
Indian Old-Man Stores. Linderman, F. 1996. (ISBN: 0803280017)
Kootenai Why Stories-The Authorized Edition. Linderman, F. 1996. (ISBN: 0803279728)Montana: The Magazine of Western History. 2008. Volume 58, Number 3
Montana: The Magazine of Western History. 2009. Volume 59, Number 1
Place Names of Glacier National Park. Holterman, J. 2006. (ISBN: 1931832684)
Post Cards from Glacier National Park. Faircountry Press. (ISBN: 1560373946)
Through Glacier Park in 1915. Rinehart, M.R. 1983. (ISBN: 0911797068)
The Tree Army: A Pictorial History of the Civilian Conservation Corps, 1933-1942. Cohen, S. 1980. (ISBN: 0933126115)
Audio/Visual
The Civilian Conservation Corps.PBS. 2010. Video DVD. (ISBN: 9781608831234)
Glacier. Thompson, J. Video DVD
Blackfeet Legends of Glacier National Park. Gladstone, J. 2008. Audio CD.
Glacier National Park.The Readers Digest Association, Inc. Video DVD.(ISBN: 1568559798)
Other Resources
Historical Artwork
Maps of Glacier (physical and cultural)
Glacier national park souvenirs (past and present)
Authentic park ranger and CCC member uniforms
Historical photos
American Indian-crafted items (locally-made)
Work House Binder with CD
Borrowing Instructions
All of Glacier's traveling trunks are free of charge and can be borrowed for 2-4 weeks at a time, but must be picked-up and dropped-off in person. (Sorry, it is not possible to mail the trunks.) To arrange to borrow a trunk please submit a reservation form found on the main Traveling Trunks page.
The Montana Historical Society also has a Land of Many Stories trunk available in Helena. No rental fee is charged for the use of this trunk. However, schools are responsible for the cost of shipping the footlocker to the next venue via UPS. For more information, visit the Montana Historical Society website.
Last updated: January 10, 2020