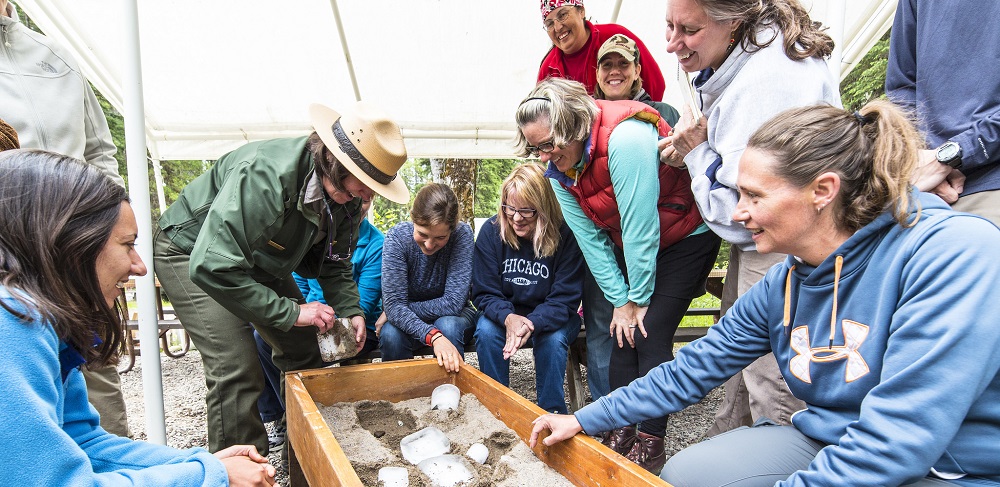 Teacher Workshop:
Discovering Glacier through Science and Culture
What: Glacier National Park Teacher Workshop
Who: Glacier National Park Education, Crown of the Continent Research Learning Center, Glacier Institute staff, park researchers, United States Geological Survey scientists, and other Resource Professionals to do presentations and to take teachers out in the field to learn about their research.
When: June 26-29, 2017
Where: Glacier Institute Field Camp, West Glacier, Montana
Cost: Free - thanks to a generous grant from the Glacier National Park Conservancy. The grant covers the Field Camp lodging, meals at Field Camp, and travel during the workshop (all are provided by the Glacier Institute). Transportation to and from the workshop and meals/lodging outside of workshop hours are not included. Eighteen teachers will be selected from all over the United States. Applications are available on the Glacier Institute website. Thanks to the many teachers who applied for this year's workshop!. We have selected the top 18 candidates (from 54 applications- wow!). The Glacier Institute is notifying people of their acceptance. If someone does not send in their deposit, additional people will be contacted.
OPI Renewal Units: TBA but Generally 32 OPI Renewal Units
University Credit: We are applying for the class to be taken for 2 University of MT Credits
---
2017 Waterton-Glacier Science and History Day
What: Every summer, Waterton-Glacier International Peace Park presents a special all-day program highlighting the parks' science and history. The event brings together scientists and historians conducting research in Glacier and Waterton Lakes National Parks, giving them opportunity to share their research and insights with the general public.
Who: Waterton-Glacier International Peace Park
When: Tuesday, July 25, 2017 from 9:30 am - 3:30 pm (with 1 hour lunch break)
Where: West Glacier Community Building, 164 Mather Drive, West Glacier, MT
Cost: Free!
Office of Public Instruction (OPI) Renewal Units: 5 will be available
---
Flathead Community of Resource Educators (CORE) Educational Trunk Workshop
What: This hands-on workshop will give educators an opportunity to explore the many educational trunks available for loan in the Flathead region.
Who: Hosted by community organizations/participants in Flathead CORE. This workshop is open to teachers, youth group leaders, home schools, daycares, afterschool programs and any similar groups looking for hands-on materials about local natural/cultural resources. Contact the Education Specialist if you would like to attend.
When: Generally the Thursday PIR day, 3rd week in October, 9 am - 3 pm
Cost: Free! Participants should bring their own food and we will have a working lunch.
Where: TBA, generally a location in Kalispell, MT
Office of Public Instruction (OPI) Renewal Units: 6
---
2017 Montana Environmental Education Association Conference
What: This annual event is a chance to learn about resource issues and educational opportunities available throughout Montana.
Who: MEEA, Montana Environmental Education Association
When: TBA
Where: TBA, MT
Cost: See the MEEA Conference website in 2018 for costs. There are usually grants to cover conference fees are available
OPI Renewal Units: Dependent upon which sessions are attended.