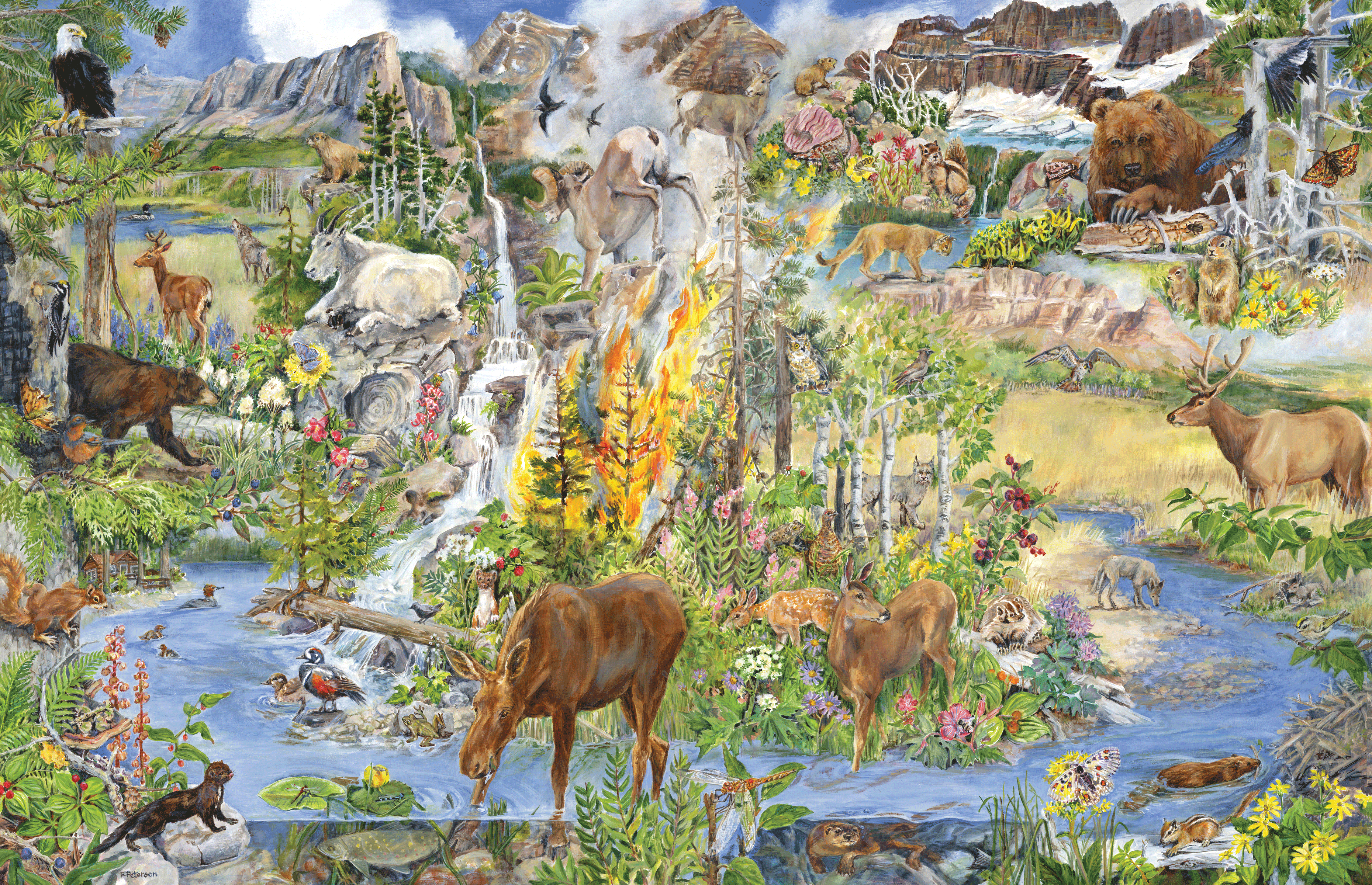 Biological Information
Number of mammals species: 71
Number of bird species: 276 documented
Number of plants species: 1,132 vascular and 858 non-vascular
Number of fish species: 25: Of the fish species, 18 are native and, 7 are non-native. Lake trout are native in the
Hudson Bay Drainage, but are non-native west of the Continental Divide. They are listed on both the native and
non-native lists.
Historic Features
National Historic Landmarks
Two Medicine Camp Store
Going-to-the-Sun Road
Lake McDonald Lodge
Granite Park Chalet
Many Glacier Hotel
Sperry Chalet
National Register of Historic Places
There are 367 historic structures in the park. Going-to-the-Sun Road (GTTSR) is one of them. GTTSR is the main road through the middle of the park. It's 52 miles long, and at its highest elevation, it's 6,646 feet high. The road has been designated as both a
National Historic Landmark and a National Civil Engineering Landmark.
Geographic Features
Lakes
Largest lake: Lake McDonald at 9.4 miles long; 1.5 miles wide; 464 feet deep; 6,823 acres
Number of unnamed lakes: 631
Acres of named lakes: 25,622
Number of named lakes: 131
Total number of lakes: 762
Streams
Longest stream: Upper McDonald Creek at 25.8 miles / 41.5 km
Number of streams: 563
Total length of intermittent streams: 1307 miles / 2103 km
Total length of perennial streams: 1514 miles / 2436.5 km
Total miles of streams inside the park: 2,865 miles / 4,610 km
Land
Acres of defacto wilderness: 963,155, or 1,489.3 sq. miles / 3,857 sq. km
Largest glacier: Harrison Glacier at 1,661,456.75 sq. meters
Shared with Waterton National Park: 21 miles / 33.7 km
Shared with U.S. Forest Service: 130 miles / 209 km
Shared with British Columbia: 31 miles / 50 km
Elevation at Logan Pass: 6,646 feet / 2,025 m
Number of glaciers: 26; all shrinking in size
Miles of exterior boundary: 205
Number of mountains: 175
Square miles: 1,583
Acreage: 1,012,837
Facilities
Paved bicycle path: 2 miles (3.2 km) between Apgar and West Glacier/HQ
Number backcountry campgrounds: 65, with 208 sites
Number designated picnic areas: 8, with 175 sites
Number Class A campgrounds: 8, with 943 sites
Number Class B campgrounds: 5, with 61 sites
Number of trails: 151; total length - 745.6 miles
Miles of Continental Divide Trail in Glacier: 110
Park Visitation
Year - Number Visitors
1911 - 4,000
1920 - 22,449
1930 - 73,776
1940 - 177,307
1950 - 482,298
1960 - 724,500
1970 - 1,241,600
1980 - 1,474,578
1990 - 1,986,737
2000 - 1,728,693
2010 - 2,200,048
2017 - 3,305,512
Grand total Including All years:
108,335,071