Astronomy Volunteers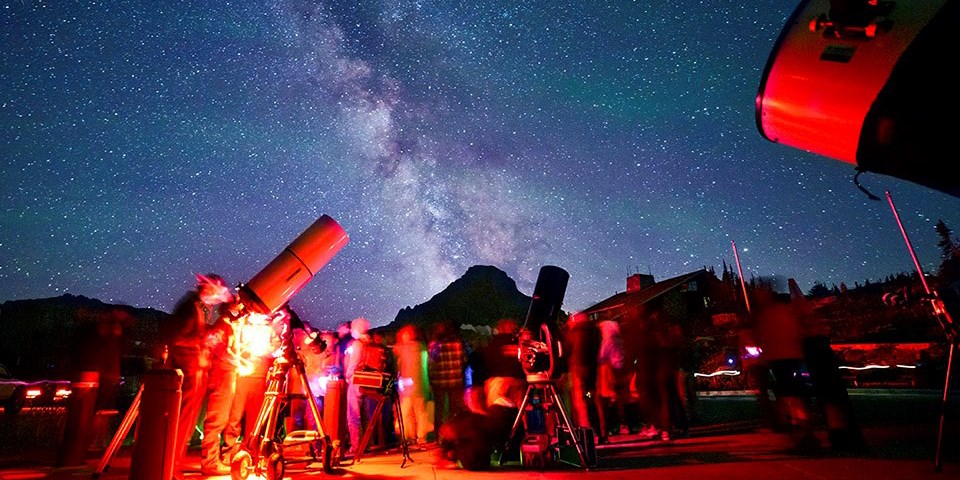 Astronomy Volunteer Positions
The Positions
Glacier's Astronomy Outreach and Education Program began in 2008. The program has grown to become one of the National Park Service's premiere astronomy programs. Glacier's volunteer astronomers help over 10,000 visitors view the sun and night sky every summer. Astronomy volunteers are patient communicators who are able to help a diverse audience learn about astronomy. During nightly sky tours and telescope viewing, astronomers interact with many who are completely new to the night sky. Astronomers also assist with large events like our Logan Pass star parties. Our astronomers provide guided sky tours of Native American and Greek constellations and use park-owned telescopes to show visitors the wonders of deep space. Astronomers on the east side of the park also present programs using the park's Dusty Star Observatory and 20 inch telescope located in St. Mary. These positions work closely with the public in an outdoor setting and in a variety of weather conditions including heat, cold, wind, and smoky skies. Additional training in interpretive skills, customer service, park operations, and other professional development opportunities may also be available.

This program is supported by the Glacier National Park Conservancy.

Required Skills and Interests
Background in astronomy education
Ability to set up and use both celestial and solar telescopes
Experience in manual and/or GoTo telescope operation
Ability to clearly communicate values of dark skies and find and describe astronomical objects
Good customer service skills
Ability to work independently and live in a remote area
Desired Skills and Interests
Ability to communicate the "big picture" of dark skies and how this relates to protecting national parks
Curiosity and friendliness
Ability to conduct night sky constellation tours
Experience providing astronomy programs for the public through star parties or other events
Experience with electronically assisted astronomy
Position Dates
Positions run from approximately mid June through early September. Beginning and ending dates may be flexible. Work schedule is five days per week with afternoon solar programs and nighttime celestial programs.

Position Locations
These positions (up to 4) are located in either the Hudson Bay District at St. Mary (east side) or the West Lakes District at Apgar (west side) of Glacier National Park.

Stipend
Astronomy volunteers are reimbursed for living expenses at the rate of $200 per week. A $400 travel allowance is also provided. The park also provides name tags and uniforms, plus $125 to defray the cost of other uniform items.

Housing
Volunteers in St. Mary (east side) are provided with trailer pads with utilities, but may need to provide their own RV. Separate bathroom and shower facilities are not available for trailer sites. For positions in Apgar (west side), government housing may be available. Trailer spaces with utilities in a nearby private campground are also available and are covered through the program. When applying, please let us know the size of your RV and the preferred service amperage.

Application Information
A resume, cover letter, and contact information for three professional references (name, title/position, phone, and e-mail) should be submitted via email. If selected, a federal background investigation will be required.

Park Contact
For more information or to submit an application, please contact glac_astronomy@nps.gov.
Glacier National Park has filled the Astronomy Volunteer Positions for the 2023 season. Please check back for 2024 opportunities.
Last updated: March 15, 2023