Be A Junior Ranger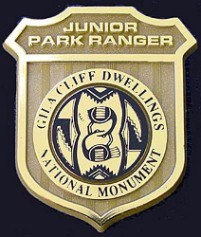 Explore, learn, protect.
Do you care about exploring, learning about, and protecting Gila Cliff Dwellings? If yes, become a Junior Ranger by completing the Junior Ranger book.

This booklet includes activities like mazes, maps, drawings, and more to help you learn about the Cliff Dwellings and people who built them. Discover all the park has to offer, from archeology to geology, from plants to people.
Become a Junior Ranger
Visitors of any age can pick up a Junior Ranger book at the Gila Visitor Center or Trailhead. To become a Junior Ranger, you must complete at least five specific activities in the book. Return your completed book to a ranger at the visitor center or trailhead, take the Junior Ranger pledge, and earn your badge!
Become a Senior Ranger
This program is for those visitors of any age who are looking for a challenge or who have already completed the Junior Ranger program. To become a Senior Ranger, you must complete at least ten activities in the book. Instead of a badge, Senior Rangers earn a special patch.

Want to get started ahead of time? We can email you a digital copy of the Junior Ranger book. Please contact the park via email or by calling 575-536-9461.
Don't have enough time to finish the book while you are in the park? No problem! Send your book back to the park when you complete it. A ranger will check your work and mail the book back to you with a badge and signed certificate.

Mailing Address:
Gila Cliff Dwellings National Monument
Attn: Junior Ranger Program
26 Jim Bradford Trail
Mimbres, NM 88049


Last updated: September 15, 2023