Be A Junior Ranger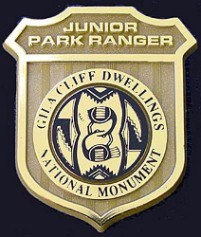 Junior and Senior Ranger Program at Gila Cliff Dwellings
Junior Rangers
Visitors of any age can pick up a Junior Ranger booklet at the Gila Visitor Center or Trailhead Museum. To become a Junior Ranger you must complete at least four specific activities while visiting the park. Upon completion of the program, the new Junior Ranger is awarded a Junior Ranger badge.
If you'd like to get an early start on the booklet before you arrive, it is available to download and print..
Junior Ranger Program booklet: "Welcome To Our Home in the Gila"
(PDF) (5.76 MB)
Senior Rangers
This program is for those visitors of any age who are looking for a challenge or who have already completed the Junior Ranger program. Complete five activities of your choice. Once complete have a ranger at either the Gila Visitor Center or Trailhead Museum look it over. They will swear you in and give you a Senior Ranger patch for your hard work.
Senior Ranger Program booklet: "Discover Cliff Dweller Canyon"
(PDF) (10.8 MB)


Last updated: April 17, 2020