Fishing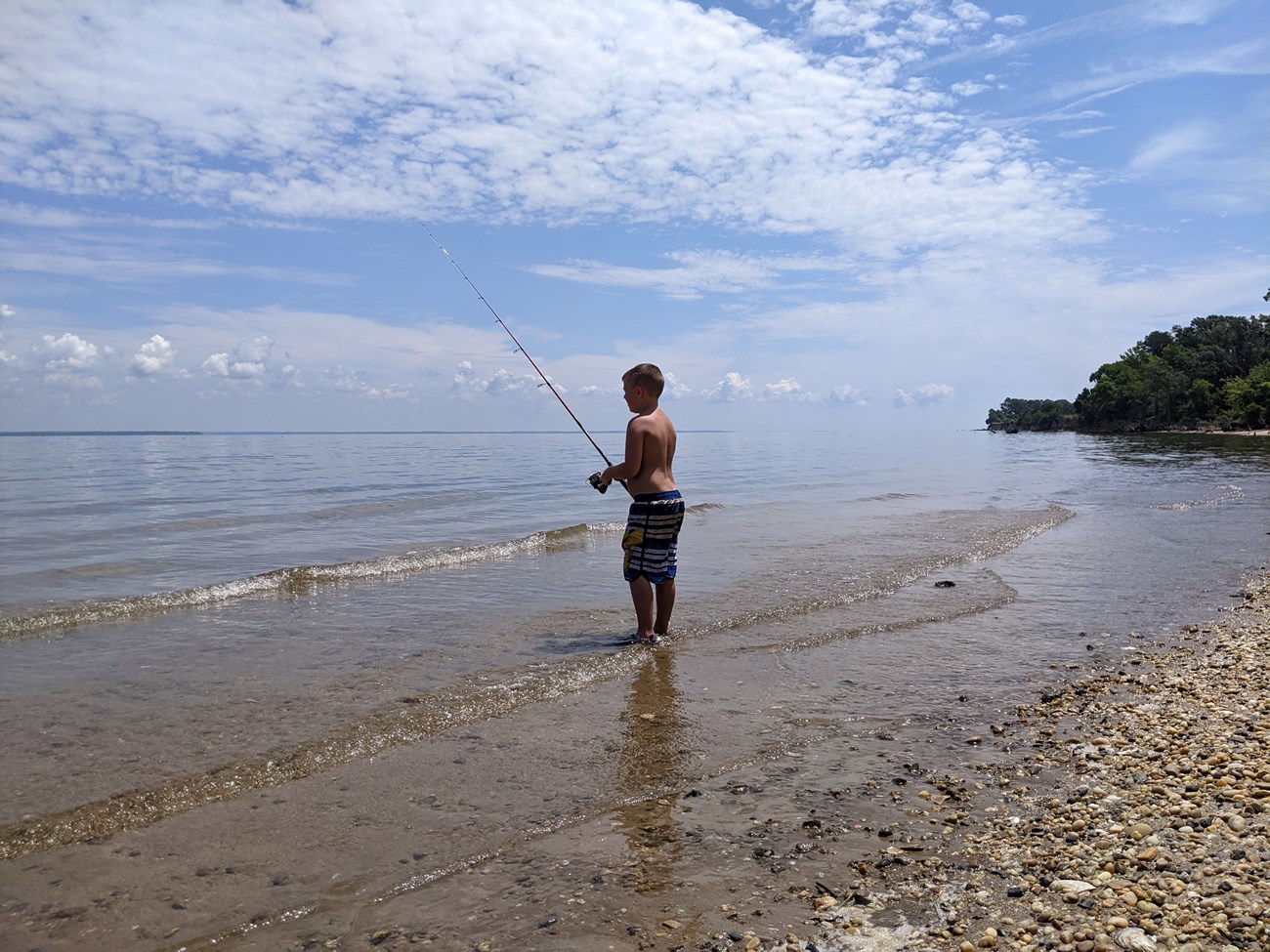 George Washington Birthplace National Monument allows fishing as a means of providing for public enjoyment, and customary and traditional use, and regulates fishing to ensure that it is managed in a manner that avoids unacceptable impacts to park resources.
Licenses
Visitors fishing within George Washington Birthplace National Monument must follow the fishing license requirements in accordance with the laws and regulations of the Virginia Marine Resources Commission and the Virginia Department of Game and Inland Fisheries.
Fishing Regulations
The park shorelines, pedestrian bridge, boardwalks and ponds are closed to fishing with the exception of the Potomac River Beach and Popes Creek designated fishing area, which is adjacent to the Popes Creek Picnic Area.
Unless otherwise provided for, fishing regulations apply to all finfish found in both fresh and saltwater, and mollusks and crustaceans found in saltwater (shellfish).   Other taxa, including amphibians, and freshwater mollusks and crustaceans (e.g. waterdogs, crayfish) are not considered "fish" for the purpose of NPS fishing regulations and are addressed by NPS regulations governing "wildlife" (36CFR2.2).   
These fishing regulations apply, regardless of land ownership, on all lands and waters within the park that are under the legislative jurisdiction of the United States. 
Fishing shall be in accordance with the laws and regulations of Virginia (36CFR2.3(a)) except as provided below. Where there is a conflict between a state regulation and a federal (NPS) regulation, the state regulation is superseded by the federal regulation.   

All fishing must comply with State size limits, catch limits, and other restrictions.
Except as otherwise designated, fishing with a net, spear, or weapon in the salt waters of park areas shall be in accordance with State law

For more information on how NPS fishing regulations work, go to the regulations page on the NPS Fish and Fishing website.
The following are prohibited:
Introducing wildlife, fish or plants, including their reproductive bodies, into a park area ecosystem. This includes the discarding and/or dumping of bait and bait buckets.

The use or possession of fish, wildlife or plants for ceremonial or religious purposes, except where specifically authorized by Federal statutory law, or treaty rights. .
Fish Consumption Advisories in National Park Waters
The Environmental Protection Agency, states, territories, and tribes provide advice on fish and shellfish caught in the waters in their jurisdiction to help people make informed decisions about eating fish. Advisories are recommendations to limit your consumption of, or avoid eating entirely, certain species of fish or shellfish from specific bodies of water due to chemical or biological contamination.

To learn more about this topic, the National Park Service maintains information about Fish Consumption Advisories and Mercury and Toxins in Nature.
Last updated: July 5, 2023