A Green and Gentle Slope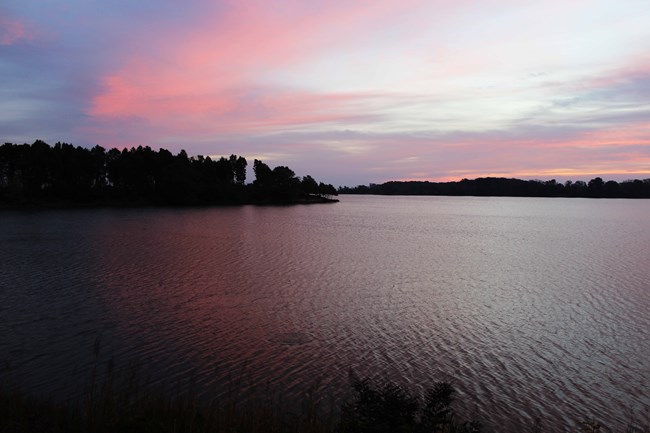 "The homestead stood upon a green and gentle slope that fell away, at but a little distance, to the waters of the Potomac, and from it could be seen the broad reaches of the stream stretching wide to the Maryland shore beyond..."
- President Woodrow Wilson
Long before the Europeans arrived, American Indians used the waters of Popes Creek and the Potomac River and the green and gentle landscapes that surrounded them.
American Indians fished for shad and herring, as well as hunted for a variety of game. For generations, local tribes harvested oysters from these waters, leaving piles of discarded shells known to archeologists as middens. Information learned through these shell middens gave archeologists a greater knowledge about the tribes that used these lands.
To a Colonial Virginian, land signified wealth. In 1718, Augustine Washington increased his grandfather's and father's property by obtaining 150 acres of slightly elevated and well-drained land suitable for farming on Popes Creek.
Over the next decade, Augustine's enslaved Africans, indentured servants, and hired help cleared land, planted tobacco, and built quarters and a house to establish the estate named Popes Creek Plantation.
In 1731, Augustine married Mary Ball who helped raise his three surviving children of his deceased first wife, Jane Butler. A year later on February 22, 1732, Augustine and Mary's first child, George, was born here.
To advance his status in Virginia's elite, Augustine expanded into new businesses, including owning a partial share of an iron foundry, and acquiring more acreage to expand his landholdings. This led the Washingtons to move upriver in 1735 to the Little Hunting Creek Plantation, better known today as Mount Vernon.
Last updated: November 22, 2020