Parks as Classrooms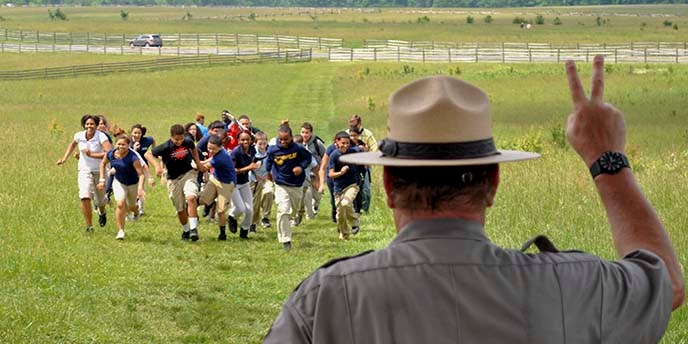 "Best Field Trip Ever!" Planning Kit
Just getting started with your field trip planning? Be sure to check out the "Best Field Trip Ever!" planning kit pdf to learn about all of your options. This pdf has sections for the planning teacher, the chaperones, and the students.


Ranger Field Programs at Gettysburg
A field trip to Gettysburg is the perfect way to help teach the history and stories of the Civil War. Build upon these unique opportunities for experiential learning all year long. We have two seasons of Ranger-led education programs. Schedule your Ranger Field Programs at Gettysburg today.


SPRING 2018: April 2 - May 25
All spring program requests received by September 22 will be processed at that time; requests received after September 22 will be processed while availability lasts.

For more information and to register please e-mail us.


Battlefield Footsteps
Walk in the path of these regiments to learn about courage, determination,
leadership, citizenship and more!


Citizenship: Untold Stories from the Battle of Gettysburg
Visit the homes of a widow who surrendered her home for the commanding general, an African-American farmer facing the approaching Confederate army, and an immigrant whose husband was off fighting for their new country. What did the battle, and the war, mean to these civilians and the rest of their lives?
Grades: 4-12 Class Size: 10-35 Length: 90 minutes
Courage & the 9th Massachusetts Battery, July 2
Practice the loading and firing procedure, and then follow in the path and harried activity of this as yet untested artillery unit.
Grades: 4-12 Class Size: 15-45 Length: 90 minutes
Determination & the 15th Alabama Infantry, July 2
Climb Big Round Top and attack Little Round Top after a forced march, and without any water… and then explore how your students can apply these lessons of determination.
Grades: 4-12 Class Size: 15-45 Length: 90 minutes
Leadership & the 6th Wisconsin Infantry, July 1
"Align on the Colors" with Lt. Colonel Rufus Dawes as you rush toward an unfinished railroad cut filled with firing Confederate soldiers. Will the cut serve as cover, or will it become a trap?
Grades: 4-12 Class Size: 15-45 Length: 90 minutes
Teamwork & Pickett's Division, July 3
Walk in formation across the field of Pickett's Charge, about one mile, role-playing individual soldiers. Group unity and participation are stressed.
Grades: 4-12 Class Size: 15-45 Length: 90 minutes
Civil War Perspectives
Ask about museum lesson plans that compliment these program perspectives!
Caring for the Wounded: A Civil War Hospital
Follow the path of a soldier from campaign to battle, to first aid, to transport, to field hospital, and finally to recovery. Set up a field hospital and role play Civil War first aid and triage.
Grades: 5-12 Class Size: 10-35 Length: 90 minutes
Fallen Soldiers: The National Cemetery and Gettysburg Address
Students work in small groups simulating the process of soldier identification following the battle, read letters of the soldiers, graveside, and apply them to Lincoln's Gettysburg Address - a unique and emotional primary source experience.
Grades: 7-12 Class Size: 10-35 Length: 90 minutes
Join the Army: Life of a Civil War Soldier
Participate in activities and discussions that present the training, equipment, life and feelings of the volunteer soldiers, including the medical exam, Oath of Allegiance, marching drill, and captain's speech before first battle!
Grades: 2-6 Class Size:10-35 Length: 90 minutes
Slyder Family Farm: Before, During, and After the Battle
Hike down a trail to the John Slyder farm, and rotate through farming chore stations. Then roleplay the Slyder family and the soldiers they came into conflict with on July 2, 1863.
Grades: 4-8 Class Size: 15-30 Length: 90 minutes
---

Homeschool Days

Sign up your family, or your co-op for one of the following events, designed specifically for homerschoolers:

"Civil War Books and More!"
Thursday, January 18, 2018
10 am - 3 pm
Recommended for children ages 5 to 11

At "Civil War Books and More!" homeschool families will rotate through several book and activity stations that include picture books on the Underground Railroad, the Civil War, and Abraham Lincoln. There will also be opportunities for dressing up like book characters, participating in soldier campfire activities, and illustrating some pages from a children's book of their own creation!

Or

"History Career Day"
Friday, January 19, 2018
10 am - 3 pm
Recommended for children ages 12 to 18

At "History Career Day", homeschool families will rotate through several work stations and meet park educators, curators, law enforcement officers, monument preservationists, biologists, tour guides and more. Come prepared to get your hands a little dirty and try out a skill or two while you are here!

Please note

:

If you have children in both age groups, please either 1.) find alternative plans for those students not in the specific age group on that day or 2.) register all students for one day or the other and plan to adapt the activities for the various ages. Each student can only attend one event, as we have limited space and supplies.

We can accept a maximum of 75 students per day. A waiting list will be maintained for reservation requests after the first 75 students for each day, and you may be asked to secure your reservation with a donation to be applied only in the event of last-minute cancellation or no-show. Otherwise, this event is free of charge.
Preparation lesson plans for all of our curriculum-based ranger field trip programs, as well as the Teacher's Guide for the "Life of a Civil War Soldier" Traveling Trunk program are all here!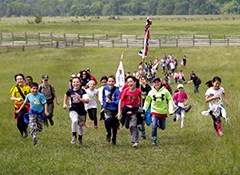 ~ formerly called Unfinished Work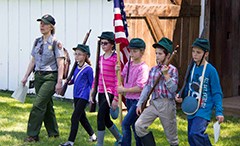 ~ formerly called Impact of War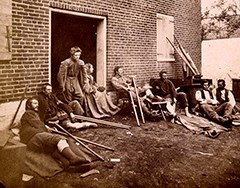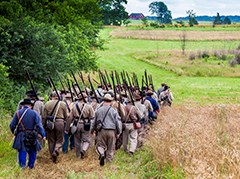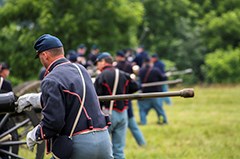 Leadership and the 6th Wisconsin
Determination and the 15th Alabama
Courage and the 9th Massachusetts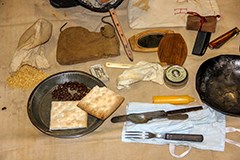 Teachers Guide to The Life of a Soldier
Last updated: January 17, 2018