Distance Learning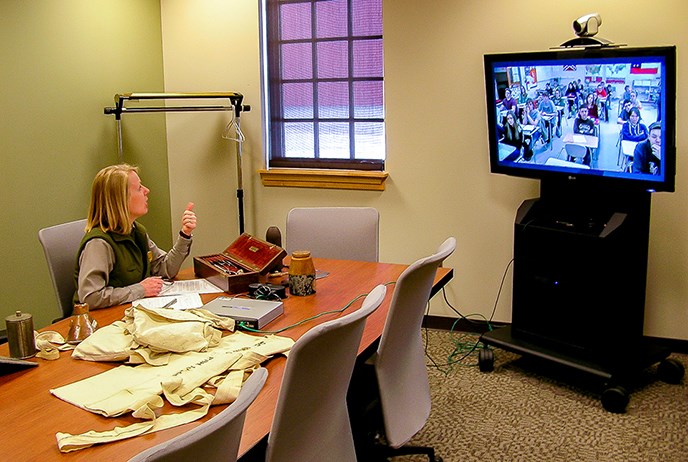 Virtual Field Trips and
#GETTVIDS School Year Video Contests
Distance learning programs for the 2020-2021 school year include ten diifferent Virtual Field Trip Ranger Programs each based upon a critical focus question as well as student video challenges for each of the months of the school year.

*Note: These programs are designed and intended for school and other groups, including Homeschool Co-Ops. For family and individual homeschool opportunities, please visit our Virtual Programming for Families and Homeschools page. Students and families are also encouraged to take a Virtual Tour of the Battlefield as well as 3D Tours of some of the famous buildings on the battlefield!
Virtual Field Trips from Gettysburg National Military Park
Choose one of the ten focus or essential questions for your students to investigate, then watch an introductory film, review primary source documents set, and conclude with a Park Ranger session from Gettysburg! Perfect for document and inquiry-based learning goals and assessments. Programs offered for elementary, middle and high school classes.

"FLAT RANGER'S ROCK TOUR"
New Program!
Grade Level: Elementary
Essential Question: Which battlefield rock/monument story is your favorite?

"FLAT RANGER'S TIME TRAVEL"
New Program!
Grade Level: Elementary
Essential Question: How do old buildings help us understand the perspectives of those who used them?

RE-ENLIST?
Grade Level: Elementary and Lower-Middle
Essential Question: After having served in a Civil War army for three months, would you decide to re-enlist to serve for three years?

TIDE OF BATTLE
Grade Level: Middle and High School
Essential Question: Which moments were the turning points of the Battle of Gettysburg, and of the Civil War?

DECISION POINTS
Grade Level: Upper-Middle and High School
Essential Question: What special circumstances did African American residents in Gettysburg face during the campaign and battle, and what were the potential consequences of their decisions?

COST OF WAR?
Grade Level: Upper-Middle and High School
Essential Question: Were the consequences of war, including the destruction and loss of life at Gettysburg, necessary to resolve the country's issues?

MONUMENTAL ISSUES
New Program!
Grade Level: High School
Essential Question: How can monuments help or hinder a full understanding of American history?

PATH OF LINCOLN:
New Program!
Grade Level: Adaptable to All Grades
Essential Question: How did President Abraham Lincoln's trip to Gettysburg progress the meaning of the Civil War?

HOMETOWN HISTORY:
New Program!
Grade Level: Adaptable to All Grades
Essential Question: What are some of YOUR family and hometown connections to the American Civil War?

RANGER CAREERS:
New Program!
Grade Level: Adaptable to All Grades
Essential Question: For which type of Park Ranger career are your skills and abilities most suited?


For more on these Virtual learning opportunities and for information on how to register for one of these programs, please Email our education staff
#GETTVIDS School Year Student Video Contests

Each month this school year, we are hosting a student video contest! The winners will not only have their videos featured on Gettysburg National Military Park social media pages, but will also receive a special certificate and Gettysburg memento, and get the opportunity to attend a Virtual Video Marathon and Awards Ceremony at the end of the school year where we will reveal the Gettysburg Video of the Year!

Videos or video links should be 1-3 minutes in length and sent to our education staff with the name of student(s), family or class, school or homeschool association if applicable, city and state, and film title.

Additional Rules and Guidelines:
• Each month's entry must be received WITHIN that month (not before the first day, or after the last day of the month);
• Entries may be made by one student, a team of students, or a class but only with teacher/parent oversight. Student-written, directed, and edited entries only please;
• If necessary, we will announce elementary, middle, and high school winners separately.
• Judging criteria will include:
Historical Content – Does entry evidence research? Is content accurate?
Theme & Story – Is there a clear story and good storytelling? Story connected to theme?
Creativity – Original, captivating and relevant? Technical creation is good quality?

Each Month's video submissions must center around a central theme:

September
Theme: Hometown History 1: Our hometown's Civil War connection.
October
Theme: Hometown History 2: Our hometown's most interesting historical event/person/connection.
November
Theme: Good Character/Leadership: All About Our Favorite History Heroes.
December
Theme: Good Books! You should definitely read this book. . .we did!
January
Theme: Civil War Movies: Recreate your favorite Civil War movie scene!
February
Theme: Primary Sources: What Are They? And What Can They Teach Us?
March
Theme: Untold Stories: We Actually Found Some NEW Civil War Stories to Tell!
April
Theme: Civil War Channel! Develop And Produce a Civil War-Related Television Show. (Some Hints: A Civil War Food/Cooking Channel? A Civil War Game Show Channel?)
May
Theme: Past to Present: Why The Civil War Still Matters.

Please e-mail us for additional information.
Last updated: January 15, 2021