Distance Learning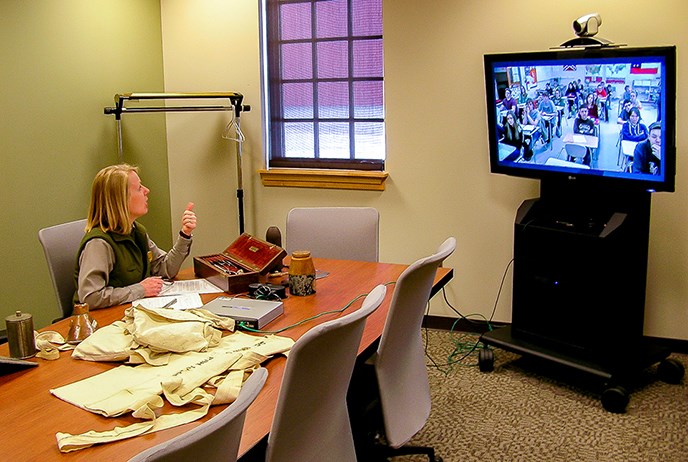 Facebook Live Series and Virtual Field Trips
Facebook Live Classroom Series
Themed six-week series for Elementary, Middle, and High School classrooms. Register to receive the weekly lesson introductions, then tune in that day or watch the video, via our Facebook page at facebook.com/Gettysburg Education, when convenient!
Series #1: History Career Days
Recommended for Students in Grades 1-4
October 3, 10, 17, 24, 31, November 7, 2018 at 1 pm EST
Meet and learn from all kinds of park rangers – historians, scientists, park police, carpenters and more.
Series #2: Gettysburg Character Lessons
Recommended for Students in Grades 4-8
February 20, 27, March 6, 13, 20, 27, 2019 at 1 pm EST
Learn about leadership, respect, determination and more from various people and parts of the battlefield.
Series #3: Civil War Documents: Primary Sources for High Schools
Recommended for Students in Grades 8-12
April 3, 10, 17, 24, May 1, 8, 2018 at 1 pm EST
Explore a different primary source each week from its location of origin, with a park ranger.
Virtual Field Trips for Elementary, Middle, and High Schools
Document and Inquiry-Based Virtual Field Trips to Gettysburg National Military Park!
Want your students to learn directly from primary sources and from the fields of battle, but can't get to Gettysburg? Our new Virtual Field Trip opportunities allow your students to direct what they want to learn and see and ask…right from your classroom!
Your students choose the focus question they want to investigate, and then the virtual field trip begins:
They will receive a set of primary source documents to review that will help them develop questions for the ranger, and begin to develop supported answers to the focus question;

You will show a 15-minute YouTube video of the program sites as a park ranger investigates the focus question;

Students will participate in a virtual question-and-answer session with the ranger, using the documents and video to prepare their questions in advance.
Once all three parts of the program are concluded, your students will have everything they need to develop and support with evidence their answer to the focus question - a skill set outlined in Common Core, National Council for the Social Studies, and other curriculum standards.


Virtual Field Trip Selections

Cost of War?
Were the consequences of war, including the destruction and loss of life at Gettysburg, necessary to resolve the country's issues?
Documents include Elizabeth Thorn account of battle and aftermath, excerpted letters from Philip Hamlin, 1st Minnesota Infantry and Sidney Carter from South Carolina, and President Lincoln's Gettysburg Address. Video includes visit to the Soldiers' National Cemetery in Gettysburg.
The Tide of Battle?
Was one unit most crucial to Union victory on July 2, 1863 - the second day of the battle of Gettysburg?
Documents include maps of July 2 battle action for the following units: 20th Maine Infantry, 9th Massachusetts Battery, and 1st Minnesota Infantry; after-action report of Colonel Joshua Chamberlain; Minneapolis Journal article from 1895; letter to The Saint Paul Pioneer, August 1863.
Re-Enlist? (A Virtual Field Trip for 3rd through 6th graders)
Would you re-enlist in a Civil War army for 3 years, after serving for just 3 months and learning about the hard life of a soldier?
Documents include drills from 1861 Infantry Tactics manual, photographs of uniform pieces and equipment, and soldier accounts of camp life and battle action.
Last updated: February 11, 2019