Distance Learning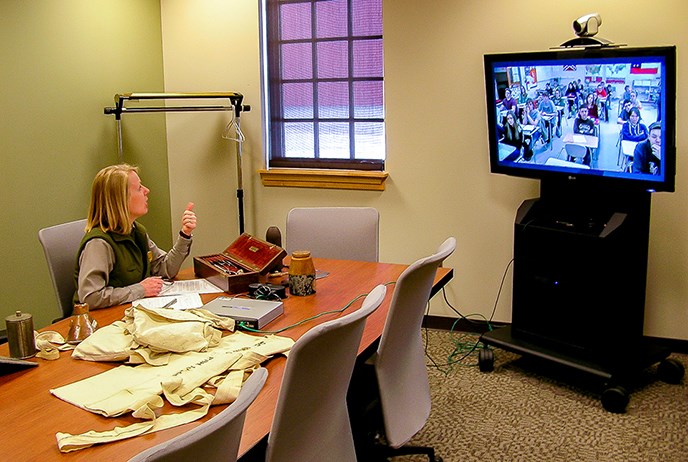 Facebook Live Series and Virtual Field Trips
Facebook Live Classroom Series - Just Tune In!
Register to receive the weekly lesson introductions… then tune in that day
or
download the video post when ready!
"Civil War Time Machine
"
for Elementary Students
– Travel back in time to meet Civil War soldiers and learn about what they ate, where they slept, how they drilled, where they fought and more. Available October 3, 10, 17, 24 at 1:00 p.m. EST
"Civil War Junior High School"
– Each week we will broadcast live from a different area of the battlefield for lessons in history, language arts, math, science and physical education. Available January 9, 16, 23, 30 at 1:00 p.m. EST
"Leadership Lessons for High Schools"
– Put your decision-making skills to the test on the fields of Gettysburg. Will you stay and fight on July 3, 1863? Which wounded soldier gets your only stretcher? What will you say in your speech to a country that has been so long at war? Available March 5, 12, 19, 26 at 1:00 p.m. EST
Virtual Field Trips - Ranger to Classroom
Choose one of four focus questions for your students to investigate, watch introductory film, review classroom document set, and conclude with ranger session from the fields of Gettysburg. Then your students will have everything they need to draw their own evidence-based conclusions.
COST OF WAR?
Were the consequences of war, including the destruction and loss of life at Gettysburg, necessary to resolve the country's issues?

THE TIDE OF BATTLE?
Which unit was most crucial to Union victory on July 2, 1863?

RE-ENLIST? (especially for 3rd through 6th graders)
Would you re-enlist in a Civil War army for 3 years, after serving for just 3 months and learning about the hard life of a soldier?

NEW!
DECISION POINTS: FLIGHT or FIGHT for FREEDOM?
What were the decision points for Gettysburg's African-American residents before, during and after the battle, and what were the potential critical consequences of each decision?
Email our education staff for more information and to register for these events.
Last updated: October 1, 2019