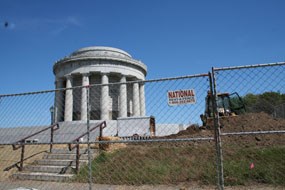 The George Rogers Clark Memorial has been reopened to the public after more than a year of restoration work. The date of the reopening was nearly 14 months after the Memorial closed for construction. Click on the resources below to learn more about why the Memorial needed restoration work.
Rededication ceremony was held Oct. 3, 2009.
Original press release for closing of the memorial August 2008.
Clark Memorial problems which prompted the restoration.
Construction Photos 2009