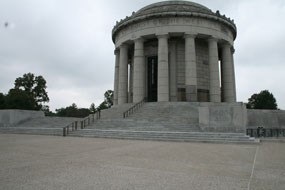 For more than 75 years the George Rogers Clark Memorial in Vincennes, IN has leaked. Throughout those years a number of attempts were made to mitigate the problems, but each attempt would ultimately fail. On Aug. 9, 2008 the memorial was closed and a chain link fence was installed around the perimeter. For nearly 14 months the site would remain off limits to park visitors. For those watching the project, from outside the fence, the work inside would create an ever-changing scene. Walls, steps, and stones around the memorial were removed. Each granite block was numbered and carefully place on the lawn surrounding the memorial. Small mountains of discarded concrete sometimes rose from the landscape in front of the structure. At times the structure appeared orange as the waterproofing layers were put in place.
Slowly each stone was carefully returned to its original location; each step was aligned and put in place; new concrete replaced the old, and finally the structure is once again complete. At 2 p.m. (EST), Sat. Oct. 3, the National Park Service will hold a rededication ceremony to celebrate this major accomplishment. The ceremony will be held in front of the George Rogers Clark Memorial, the public is encouraged to attend (the Rivet High School gymnasium will be used in the event of inclement weather). Beginning at 9AM (EST) and continuing throughout the day the Memorial will be open to the public. Park staff and volunteers will be conducting tours of the basement highlighting the work accomplished over the past year. A video of the construction will be shown in the rotunda on an ongoing basis. The park's movie Long Knives will be shown on the half hour at the park's visitor center. All activities are free.
The work completed during the past 14 months is more ambitious and in depth than anything attempted during previous years. In 1939 an Indiana State engineer reported, "If money were no problem, the difficulty could be corrected by removal of all the granite slabs and pebble-concrete terrace pavement and replacement of the fractured waterproof membrane." As one may imagine, money was a problem through the years. The project now completed however, returned to the original waterproof membrane and replaced that membrane with a new membrane of modern materials. George Rogers Clark National Historical Park Superintendent, Dale Phillips stated, "We are confident that we have fixed the problem. This new membrane should last for the next hundred years and beyond." The nearly four million dollar project will insure that the Clark Memorial continues to tell the story of George Rogers Clark and his small army of frontiersman and the conquest of the Old Northwest Territory.