George Rogers Clark Statue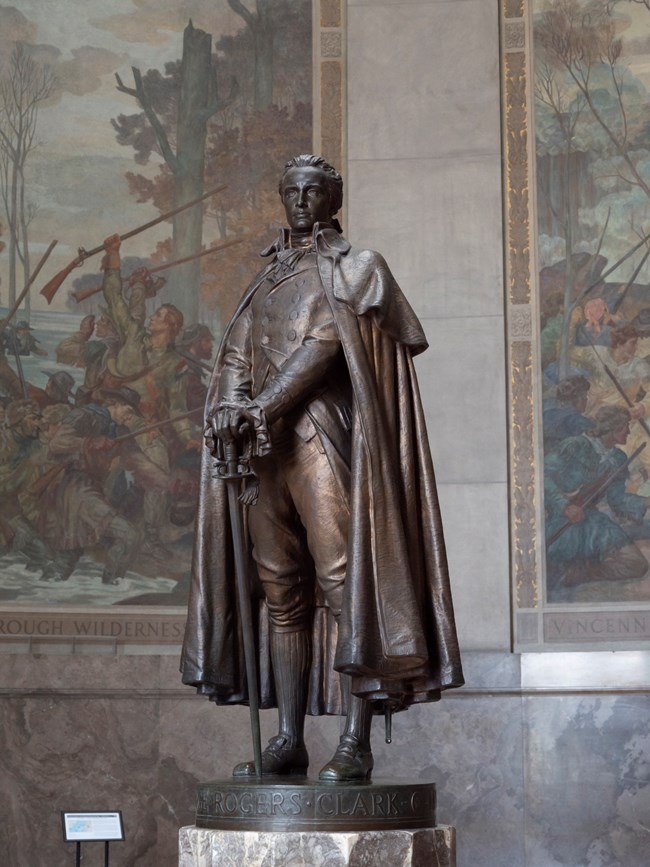 Upon entering the memorial rotunda, the presence of George Rogers Clark is immediately felt as one sees the Hermon MacNeil statue of the soldier and patriot, standing in military uniform. The bronze statue of a youthful Clark stands seven and one-half feet tall. The statue and its marble pedestal together weigh 12 tons.

Clark was only 25 years old when he conceived of the idea of leading his brave frontiersmen into the Illinois Country. Truly a man of vision, Clark felt that only a strike at the heart of the British-controlled countryside would lead to an end to the horror of Indian raids on frontier settlements.
The inscription at the base of the Clark statue reads, "If a country is not worth protecting it is not worth claiming."
Sculptor Hermon MacNeil was chosen to sculpt the statue of Clark that stands in the center of the Memorial rotunda. The chairman of the George Rogers Clark Commission may have said it best when he said, "...It is a source of gratification that the Memorial will include such a striking and handsome portrayal of George Rogers Clark." It offers a wonderful first impression of the entrance of the memorial.

Bas-Relief over the memorial door
Last updated: June 6, 2023