Teacher-Ranger-Teacher Journal 2009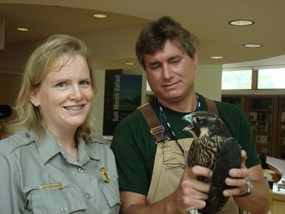 Teacher Renay Moran-Kurklen turned into Ranger Renay during the summer of 2009, when she worked at Gateway National Recreation Area. See what she learned by watching these video podcasts and by reading her journal entries!

Video podcasts:
Episode I: A Great Opportunity
Episode II: Attending a Teacher Institute at African Burial Ground National Monument
Episode III: Listening to Nature
Episode IV: Camp Cottontail
Journal entires:
Getting Started: June 29 - July 2, 2009
The Adventure Continues: July 6 - 17, 2009
Mourning Doves and Jellyfish: July 20 - August 2, 2009
Finishing Up and Starting Anew: August 5 - 19, 2009
Teacher-Ranger-Teacher Renay Moran Kurklen connects her students at Renaissance Charter School in Queens with Jamaica Bay Wildlife Refuge.

Duration:

3 minutes, 6 seconds
Renay Introduces Herself: June 2009
During the school year I am a teacher at The Renaissance Charter School in Jackson Heights, Queens, New York. I have taught fourth and fifth grade for several years. My school is a K-12 charter school accepting students from all five boroughs of New York City.
I enjoy teaching all of the subjects. However, I want to expand my knowledge of science, so that I could be a better teacher. My goal is to educate myself and in turn my students about the environment. More importantly, I want to instill a sense of stewardship of the land. I want my students to know that they play an active role in the preservation and protection of plants and animals.
This is my second summer as a Teacher-Ranger-Teacher with the National Park Service. This year I am working at the Jamaica Bay Wildlife Refuge in New York. Last summer, I worked at Acadia National Park in Maine. I hope you enjoy reading about my experiences and checking out my pictures.
I have learned so much from this wonderful program. Any teacher can apply and several National Parks around the country participate in this eight-week program. Teacher-Rangers receive a stipend, uniform, resources and a wealth of knowledge. For more information about the Teacher-Ranger-Teacher program, visit www.nps.gov/learn/trt.
Last updated: February 26, 2015