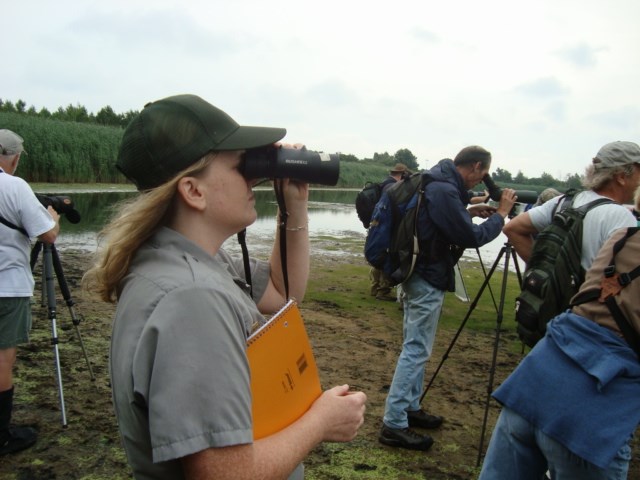 On July 27, I assisted a turtle researcher to collect jellyfish at the North Channel Bridge. She is trying to find out if the Diamondback Terrapins will eat the jellies. We used a large rectangular shaped net. We dragged the net toward the shore. Then we simply pulled the jelly fish off and placed them in a bucket of water. It was cool to see how the jellies looked like a clear glob of goo out of water, but they took on structure and dimension when placed in the water bucket.
For the next three days, I was off to Manhattan to attend the Teacher Institute at African Burial Ground National Monument. I learned about how some Africans lived before enslavement and deportation. We looked at how people have fought to end this horrible injustice. I learned so much from the outstanding speakers. We worked in small groups with an excellent leader who showed us practical hands on activities to help us in the classroom. A ranger gave us a walking tour of the memorial site and surroundings of the Burial Ground in lower Manhattan. I will never see Manhattan the same way.
The following Sunday, I helped prepare for a children's bird program. Even though it was pouring rain, many children and their families came to learn about the birds of Jamaica Bay. A New York City teacher led the program. First she read a book about habitats. Next, the children decorated gourds for birdhouses. The children enjoyed themselves, even though we could not go on a bird walk.
On Monday, I visited the National Parks of New York Harbor Education Center where I took my class last year for the Sentinels of Our Shores program. They had great fun learning about protecting New York's Harbors with the use of cannons. While there, we talked about my project this summer. The rangers at the Jamaica Bay Wildlife Refuge would like me to design some on-site activities for teachers to conduct with their classes during a field trip to the site. I wish my students were here to help me come up with some fun ideas.
On Tuesday, I found a Mourning Dove chick on my car. She was not able to fly well, however she could fly a little bit. I placed her in a tree and hoped for the best. When I got to work, there was a team waiting to release a peregrine falcon that was found in a trashcan in New York City. She was about six weeks old. She was beautiful and quite feisty. I thought that all of this bird activity was a sign of inspiration for my project. At the refuge, I created a bird scavenger hunt and other bird related activities to do at the site. Some of my students and their mom came to visit and we sat in the new shade structure built by the boy scouts for the park. Thank you troop of Valley Stream!
Wednesday, I got to see three Cedar waxwings. They were hanging out in the mulberry tree, giving me a great performance. They have the coolest plumage. I think I may become a birder. I also started picking out books for my classroom. The Teacher-Ranger-Teacher program gives a stipend to purchase books and supplies for my classroom. The books will be a great way to open up dialogue and spark inquiry about our environment and the animals who live in it.
Sunday I participated in the Annual Shorebird Festival. I got to go on a bird watch. I learned that when trying to identify a shorebird start with the size. Next, look at the shape of the bird's body. Then, look for details or body motion. Also consider the bird's preferred habitat. I made the mistake of walking on the mudflats without rubber boots. My field boots are still encased in mud. But, it was kind of fun to sink ankle deep into the mud. I observed so many different types of shorebirds. I enjoyed observing them, but I still have trouble identifying them. I think the American oystercatcher is so cool looking. The gentleman giving the program described the bird as "wearing a tuxedo and smoking a carrot." I thought that was so clever. After the walk, there were several presentations with impressive photographs of many birds.