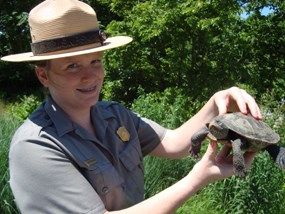 This summer I am working at the Jamaica Bay Wildlife Refuge. The refuge is a 9,155 acre preserve of salt marsh, upland woods, grasslands, fresh water ponds, open bay and islands. It is a sanctuary for animal and plant life. Although I have only worked here for five days, I have already witnessed a variety of wild animals. Since I have always loved animals, most of my updates will be about my sightings and experiences relate to wildlife.
On my first day, I participated in a beach cleanup at the North Channel Bridge. Some people picnic there and leave litter. This leaves the beach quite messy. In the afternoon, I witnessed several predated terrapin nests. Raccoons are their primary predators. While roving, I saw two adult and three baby osprey in and around a nest. On my second day, I wore personal protective gear to avoid poison ivy while clearing a trail in the North Garden. There is a lot of poison ivy here. I saw a black racer (snake) on one trail. I helped clear the "reptile pile," a pile of wood to create reptile habitat. I also encountered my first animal attack; a small terrapin scratched my finger. Ouch! I think I have poison ivy on my face.
Day three was interesting. I learned a great deal about the terrapin research that is being conducted daily at the refuge. I saw several female terrapin swimming and walking up on the beach looking to lay eggs. A ranger/researcher demonstrated how to process terrapin data. I spoke to several terrapins and felt them for eggs. None of them spoke back.
Day four: I was fortunate to spend the whole day observing the banding of baby osprey. A team of dedicated people braved the dark skies to help. I got to see beautiful Jamaica Bay by land and water. I walked on salt marshes wearing hip waiters where I saw a ground nest up close with an Osprey chick and an un-hatched egg. I watched several Osprey chicks get banded. One osprey could not be banded as he had only one foot. Although his foot was gone, the leg seemed quite healed and he was able to stand. Another had a plastic bag wrapped around its leg. The bag was removed and she was deemed healthy for banding by an avian rehab specialist who examined the bird while on the boat. I also saw several snakes under "snake-boards," including a milk snake and several garter snakes.
I am learning so much and enjoying this wonderful opportunity. Check back in about a week to learn about my other adventures.