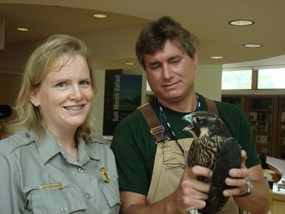 My last few weeks of teacher–rangering were quiet, but full of moments of witnessing nature at Jamaica Bay.
On August 12, I was lucky enough to see a muskrat. I was at the computer desk in the visitor center when I spotted the small, adorable, brown, furry creature outside as it dined on clover and other plants. I was told that being away from the water is unusual since they tend to stay closer to their fresh water source than the visitor center is.
Earlier that day, a peregrine falcon was released at the refuge. The raptor was from the Bronx and had been in rehabilitation since June. We watched her circle around a few times before she flew off in the direction of the Bronx.
I also went out to try to band ducks. The traps had just been set and no duck had dared enter them yet. The traps were made of large wired fencing with a net on top. The entry narrowed, which was what kept the ducks inside upon entering. The bait was corn kernels. They were placed around and leading into the cage. A ranger explained how to handle the ducks and work together to complete the banding. I was a little relieved that none had yet entered.
One day, when I arrived at work, I found a paper box on a bench. Somehow I knew that it wasn't just a plain box. Inside, there was a bird. This happens at the refuge; people leave birds for the rangers to take care of. Plus they abandon rabbits, and even cats and dogs. The rangers and the refuge are not set up to take care of injured, sick, or abandoned animals.
The first two weeks of school have been very busy, especially compared to the quiet last weeks as a teacher-ranger-teacher at the Jamaica Bay Wildlife Refuge. I have a vivacious class of fourth graders who are very curious and excited to learn more about nature.
And they will because, over the next couple of weeks, I hope to visit the Jamaica Bay Wildlife Refuge with my class. My students will try out a self-guided field trip packet I designed while I was here. One of my ranger friends is putting the final touches on it.
I also want to give them a chance to camp overnight at Ecology Village on Floyd Bennett Field this spring, like I did on September 12. That's when several New York City teachers and I attended a teacher training, including an overnight camping trip. Four rangers helped us learn the education program. It was fun camping out in Brooklyn and getting to know other teachers in the area.
I want to visit Jamaica Bay at least once a month. I just know that getting out into nature with the class will inspire great ideas in my students and refresh us all from the day-to-day pressures of living in New York City. During National Parks Week in April, I hope to immerse my class and other students in our nation's great parks---including Gateway.