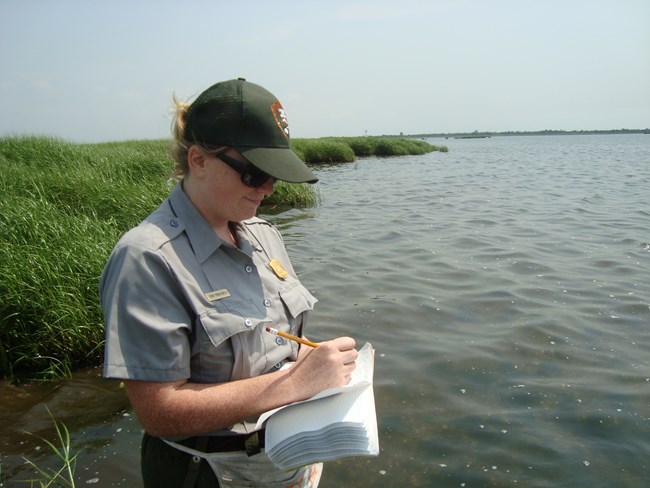 Today I attended the NYC Audubon Summer Bird and Nature Walk at the Jamaica Bay Wildlife Refuge. I observed many different species of birds. We started the walk around the West Pond. There, I saw one of the Osprey fledglings that had been banded a few weeks ago along with two other siblings. They were all sitting in their nest. Around the pond there were many Canada geese and Dowitchers. We saw several Snowy egrets and some Glossy ibis too. On the East pond there were many Mute swans. I was most impressed by the Tern. I watched one as she swooped down and dove into the water to find lunch.
Last week I went to the marina and assisted a crew of researchers as they collected data for nekton sampling. The team is trying to find out why the marshes are disappearing so fast. They said forty acres a year are getting wiped out. "Nekton" means anything that swims, such as small fish, shrimp and crabs. We took a boat out to Elders Island West. Everyone wore hip waders and mudders. It was hard to walk in the water with them. The researchers used a trap made of four screened walls. They have to wait until the tide is just right. The trap is placed in the water and a net is used to scoop up the items in the water. If any nekton is found it is measured and recorded then released. I saw some really tiny horseshoe crabs.
On Monday two of my former students and one future student came to visit with their mom. Together we walked the trails and observed wildlife in action. There was a female terrapin trying to nest. We saw many predated nests. A black racer snake scared us half to death. Later we enjoyed lunch in the picnic area. We also spent some time enjoying the displays in the visitor center. I really enjoyed their visit and support. I hope more of my students are able to visit this summer.
Last week, someone abandoned a gray lop-eared rabbit in or near the parking lot of the refuge. I guess they thought they were setting her "free." But releasing a house pet in the wild doesn't make them free it makes them food or can cause a slow death! I brought her to a veterinarian and she is healthy. I named her Jamaica, though I may change her name to Houdini since she figured out how to get out of her pen. Well, when she escaped she met Oreo, my male class rabbit. I am afraid in 28 days we may have bunnies.
Next week I am going to attend a Teacher Institute at African Burial Ground National Monument in Manhattan. I am enjoying this great opportunity so much. The National Park Service has so much to offer. I would like to thank everyone who has taken the time to speak to me, visit me, and allow me to tag along. The Teacher-Ranger-Teacher program is a great gift.