Camping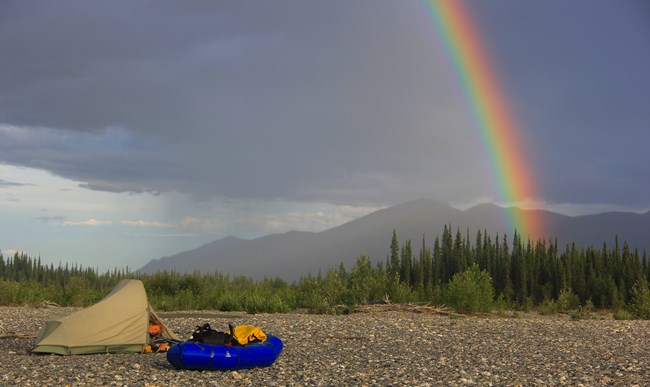 There are no designated campsites in Gates of the Arctic National Park and Preserve. Camping usually takes place in conjunction with other recreational activities. Camping in the arctic requires planning, preparation and care in order to protect the visitor and the fragile arctic ecosystem.
Arctic tundra is surprisingly fragile and slow to recover. It is best to camp on durable surfaces. Gravel bars make excellent campsites since they often have fewer mosquitoes than other sites, and high water will erase signs of your presence. Remember that water levels can rise at any time, so locate your camp well above current water levels. If you must choose a vegetated site, select a location with hardier vegetation such as grasses and sedges, rather than more fragile lichens and mosses. You can also help preserve the ecosystem by moving camp every 2-3 days or before signs of your presence become noticeable. Wearing soft-soled shoes around camp gives your feet and the vegetation a break.
Select a durable surface for your campsite. Gravel bars work well, but be sure to camp above water level in case the river rises. When camping on the tundra, select a site that is not too dry and that will not be heavily impacted. Bring what you need. Do not trench for tents or cut branches for beds. Use lighter soled camp shoes to lessen your impact.
When you set up your campsite, keep in mind that you are in bear country. Locate your cooking/eating area 100 yards away from the sleeping area. Stash all your food, trash, petroleum and other odorous items (toothpaste, lotions, etc.) in a separate area.
Campfires are allowed except during times of high fire danger. Useable wood is hard to find, however, as much of the park is arctic tundra with few trees. Keep in mind that wildfires are easily started in the peat that makes up a large percentage of the ground in this part of the world. Please only build campfires on gravel bars (where the next high water will wash away the visible evidence of the campfire) or other durable surfaces. Often times, the only wood available to have a fire will be near or on a gravel bar, anyway.
Before you leave, make every effort to return your campsite to a natural appearance.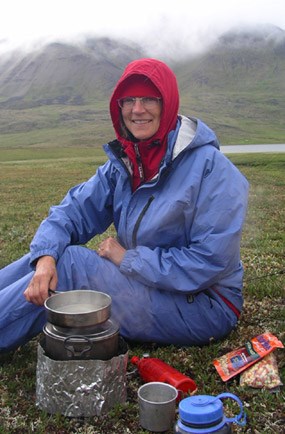 Gas or propane stoves for cooking are strongly recommended. Fires are often impractical. Tree growth in the Arctic is very slow; a spruce tree only inches in diameter may be hundreds of years old. In some areas wood is scarce or nonexistent. A gas or propane stove is also good for emergencies since it is easy to light.
Prepare and consume food at least 100 yards from your tent site and food storage area. Try to select cooking areas where you can see a comfortable distance to minimize the risk of a surprise encounter with a bear passing through the area. Be prepared to quickly stow all food back into the BRFC if a bear should suddenly approach. Keep your gear together — minimize the amount of space that you occupy. Always ask yourself, "Is there room for a bear to get around us?" Or, "Can I quickly get all this gear under my control?"
Keep a clean camp. Keep all food in the BRFC when not in use. Place any snacks, wrappers, lip balm, sunscreen, lotion, soap, and any scented products into the BRFC before entering your tent. Avoid food spills and other animal attractants. Proper food storage (certified bear resistant food container) is required in all Alaskan parks. It is not a good idea to store food in kayaks overnight. Bears that become accustomed to human food and products present a hazard to people traveling in the backcountry and often have to be destroyed. If we all do our part we can protect the fragile ecosystems and the bears that inhabit them while enjoying this vast wilderness.
At night, store your BRFC and clean cooking gear off of main animal trails, and at least 100 yards from your tent.

Learn more on the Food Storage and Bear-Resistant Food Containers page.


Last updated: March 24, 2023