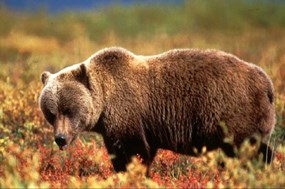 It is against the law to feed bears in Gates of the Arctic, either on purpose or by carelessly leaving food or garbage where bears can get to it.
Allowing a bear to obtain human food or garbage, even once, will cause it to seek out more human food. Eventually, if the bear becomes a threat to human safety, it may be killed, thus food and garbage must be stored by an approved means.
In most areas of Gates of the Arctic Park and Preserve there are no trees appropriate for hanging food. Bear Resistant Food Containers are the best and easiest way to meet the requirement for overnight visitors in the Park.
Gates of the Arctic ranger stations and visitor centers have BRFCs available for loan, free of charge, on a first come, first served basis. Call ahead to check availability and come by the Bettles Ranger Station or Arctic Interagency Visitor Center before heading into the park and preserve.