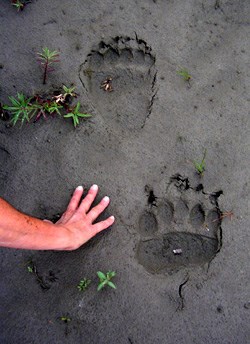 Most people who see a bear in the wild consider it the highlight of their trip. However, food conditioned bears (bears that have become accustomed to human food and petroleum-based products, such as fuel and bug repellent in aerosol cans) can present a hazard to people traveling in the backcountry. If we all do our best to prevent negative interactions with bears and other wild animals, the backcountry will be a safer place for all, including the bear.
Avoiding Bear Encounters
Be alert at all times, in all places. Bears are active both day and night and can be found anywhere. Watch for their tracks and scat, as well as diggings and carcasses they may be feeding upon.
Avoid surprising bears. They may perceive you as a threat if you startle them.
Sing, shout, or make other loud noises as you walk to warn bears of your presence. Be especially careful in dense brush, where visibility is low, and along rivers, where bears cannot hear you over the noise of the water.
Never intentionally approach a bear. Bears should live as free from human interference as possible, so give them plenty of space.
Choose and set up your camping sites in a bear safe manner, use appropriate food storage, and always be conscientious when cooking.