Welcome to Gates of the Arctic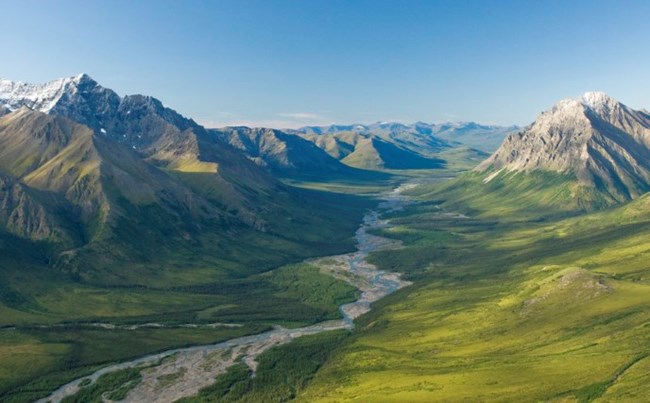 Explore
Gates of the Arctic National Park and Preserve lies entirely north of the Arctic Circle. Its austere beauty and grandeur defy description. It includes the scenic headland of the Brooks Range, the northernmost extension of the Rocky Mountains. Park and preserve combined are four times the size of Yellowstone National Park. This is the ultimate wilderness that captured the heart and imagination of Arctic explorer Robert Marshall in the 1930s.
Barren-ground caribou and grizzly bears range the spacious, fragile tundra to garner and living based in its thin veneer of arctic soil. The park straddles the crest of the Brooks Range. Its southern flank samples the boreal forest of Alaska's interior. Its north slope lies at the edge of a polar desert with precipitation comparable to Earth's driest regions. Two distinct cultures are represented here: the Athabascan peoples of the spruce-taiga forests and the Nunamiut Eskimos, who hunt caribou in the high valleys. Both cultures continue traditional subsistence patterns of life in the park and preserve.

ANILCA allows for a transportation corridor across the preserve to provide access for future development of mineral resources in the Ambler area.
Last updated: December 5, 2015