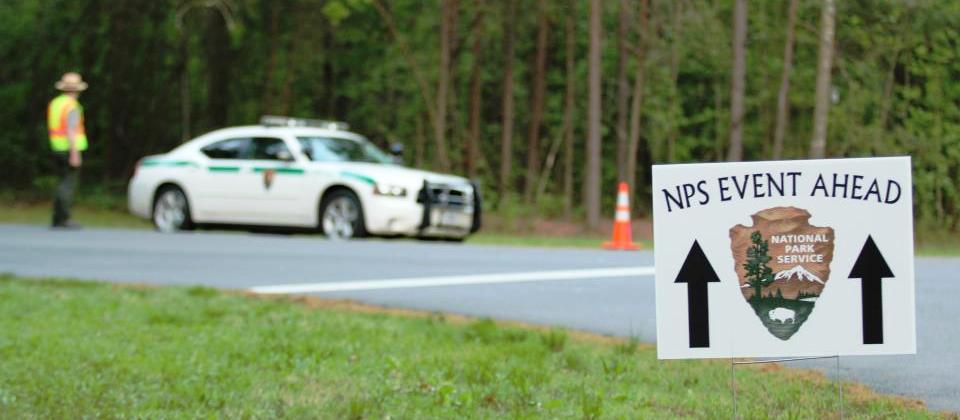 The following are special events scheduled at the park or at institutions hosting programs by or in cooperation with park historical staff. For more information, including possible schedule changes due to inclement weather or other factors, please call the park at 540-693-3200 and/or check the park's facebook page.
For more details on each event, check our Events Calendar.

Missed a program you really wanted to attend? Check to see if it was livestreamed, and watch from the comfort of your own home!

This listing contains events either within the park, or events hosted or facilitated by park staff or one of our partners. Looking for other Civil War events in the Fredericksburg area? Check out the Fredericksburg community event calendar for more!
Note: The list below does not include the park's popular, free History at Sunset programs that occur on Friday evenings each summer, or our Fit-History Hiking Series in the spring and fall.
Events are added as dates and times are confirmed. Please check back as event dates draw nearer for more details.

---
Years of Tumult: A Sesquicentennial Speakers' Series on Reconstruction


The National Park Service—Fredericksburg and Spotsylvania National Military Park—and the Central Rappahannock Regional Library once again announce a speakers' series—this one focused on the tumultuous years following the Civil War. The series will feature Dr. Jeff McClurken of the University of Mary Washington, and Emmanuel Dabney, Frank O'Reilly, Beth Parnicza, Becky Oakes, and John Hennessy of the National Park Service. The programs will explore how Reconstruction played out in Virginia and the Fredericksburg region. The series will rotate through the CRRL main branch in downtown Fredericksburg, the Salem Church Branch, and the England Run Branch.

All programs will begin at 7 p.m. and will last approximately an hour. All are free.


September 7, Main Branch, 1201 Caroline Street, Fredericksburg, 22401. Going Home: War's End. Dr. Jeff McClurken, University of Mary Washington. This program will explore the return of Confederate soldiers to their homes in Virginia and their difficult transition from Confederates to Americans once again.


September 25, Salem Church Branch, 2607 Salem Church Road, Spotsylvania, 22407. The Past Living in Them: Veterans Coping with Civil War Frank O'Reilly, Fredericksburg and Spotsylvania NMP. This program will look at how veterans remembered and wrote about their experiences in war.


October 5, Main Branch, 1201 Caroline Street, Fredericksburg, 22401: The Freedmen's Bureau in Virginia. Emmanuel Dabney, Petersburg National Battlefield. Mr. Dabney's extensive work in the records of the Freedman's Bureau reveals how the bureau worked in Virginia--its methods, its challenges, and its legacy.


October 19, England Run Branch, 806 Lyons Blvd., Stafford, 22406: A Troubled Place: Reconstructing Fredericksburg. Rebekah Oakes and Elizabeth Parnicza, Fredericksburg and Spotsylvania National Military Park. A look at the immediate postwar years in Fredericksburg and the ravaged landscapes surrounding the town.


November 2: Main Branch, 1201 Caroline Street, Fredericksburg, 22401. Hallowed Places: Remembering and Forgetting and a Nation Moving Forward. John Hennessy, Fredericksburg and Spotsylvania National Military Park. This program will look at how the nation viewed, treated, and understood the hallowed grounds of Virginia, and how those uses have evolved over time.




Living History at Ellwood Manor

Contact www.fowb.org

Friends of Wilderness Battlefield is pleased to present a Living History Event at Ellwood Manor on Saturday, October 21, 2017, from 10:30 A.M. to 4:00 P.M.

Living Historians Dr. John Yurechko and Mike Pierce will portray a Union and a Confederate soldier. They will compare and contrast the equipment, motivation, and experiences of soldiers on the opposing sides at talks presented at 10:30 AM and 1:30 PM.

Author and photography expert John Cummings will speak at 11:30 AM on the photographic efforts of the U.S. Army in 1866 to document Civil War battlefields and verify the presence of unburied dead. Mr. Cummings' books will be on sale from 12:00 PM – 2:00 PM and he will be available until 2:00 PM to sign them.

Visitors are encouraged to bring a comfortable lawn chair to use during any of the special presentations.

Living Historian John Pelletier will portray a Civil War Surgeon throughout the day. Visitors are encouraged to converse with him and ask questions about medical practices utilized during the Civil War era. See reproductions of the various instruments in a surgeon's kit and learn how surgeons saved many lives despite some misconceptions regarding the importance of sanitation.

Walking tours to the site of the Wilderness Tavern will be led by a Friends of Wilderness Battlefield (FoWB) volunteer at 12:30 PM and 2:30 PM. The tours begin at the front steps of the house and are approximately 1.5 miles in length over unpaved terrain. Visitors will learn why the armies were drawn into combat in the Wilderness and how the roads and vegetation affected the battle. Tour participants will see parts of historic road traces of the Orange Turnpike, Germanna Plank Road, and the Ellwood Carriage road, as well as cross over the Wilderness Run on a solid wooden footbridge. Sturdy walking shoes and bug spray are recommended, and don't forget a bottle of water!

FoWB Volunteers will be available to talk with visitors about possible ancestral connections to the Battle of the Wilderness and/or Ellwood Manor.

FoWB Volunteers will also be available inside the Manor house from 10:00 AM until 5:00 PM to talk with visitors about the history and the significance of Ellwood during the Civil War.

All programs are free and open to the public.