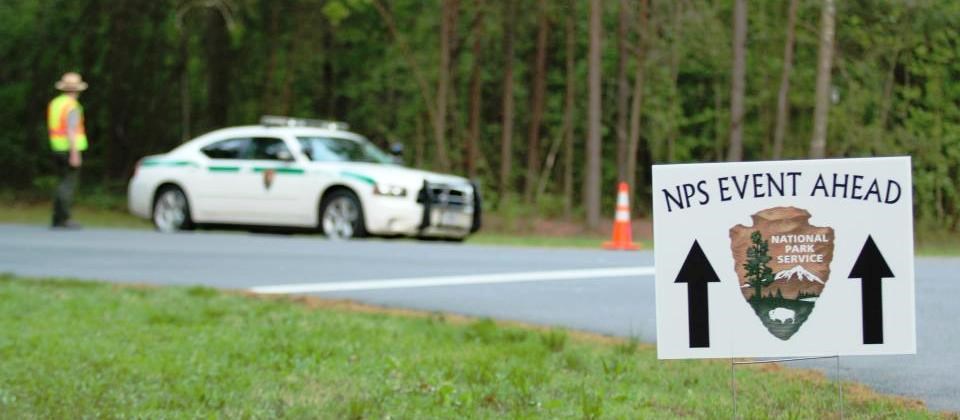 The following are special events scheduled at the park or at institutions hosting programs by or in cooperation with park historical staff. For more information, including possible schedule changes due to inclement weather or other factors, please call the park at 540-693-3200 and/or check the park's facebook page.
For more details on each event, check our Events Calendar.

Missed a program you really wanted to attend? Check to see if it was livestreamed, and watch from the comfort of your own home!

This listing contains events either within the park, or events hosted or facilitated by park staff or one of our partners. Looking for other Civil War events in the Fredericksburg area? Check out the Fredericksburg community event calendar for more!
Note: The list below does not include the park's popular, free History at Sunset programs that occur on Friday evenings each summer, or our Fit-History Hiking Series in the spring and fall.
Events are added as dates and times are confirmed. Please check back as event dates draw nearer for more details.

---
The Historic Photography of Spotsylvania and Fredericksburg Battlefields NPS Announces Two Special Tours
With Photo-Historian John Cummings and NPS Staff

Spotsylvania: Saturday April 21, 2018, 9:30 a.m. – 12:30 p.m.

The Sunken Road at Fredericksburg: Saturday April 28, 2018, 1 p.m.

The National Park Service announces two special programs focused on the historic photography of area battlefields. Photo-historian John Cummings, whose has done extensive documentary and field work on the historic photographs of Spotsylvania and Fredericksburg, will lead programs on consecutive weekends in April.

On April 21, at 9:30 a.m.,

we will explore the photographs of Spotsylvania Court House Battlefield taken just one year after the war's conclusion. Mr. Cummings and National Park Service Historian John Hennessy will visit the sites of several famous images taken on April 13, 1866—including views of the Bloody Angle, the graves of US and Confederate soldiers, and the often forgotten landscapes at the McCoull farm and Laurel Hill. The program will cover about three miles over gentle terrain and will last three hours. Wear sturdy shoes and bring water and snacks.
Meet at Tour Stop 3, the Bloody Angle, on the Spotsylvania Court House Battlefield.
On April 28, 1 p.m.,

Mr. Cummings will lead a one-hour tour along the historic Sunken Road on the Fredericksburg Battlefield. The tour will explore historic photography along the Sunken Road both during and after the Civil War, by artists like Captain A. J. Russell, Dr. Reed Brockway Bontecou, and Frances Benjamin Johnston.
Meet behind the Fredericksburg Visitor Center, 1013 Lafayette Boulevard, Fredericksburg, 22401.

The Backstory: In April 1866, United States Army Surgeon Reed Brockway Bontecou traveled to the former battlefields around Fredericksburg to collect medical specimens from the battlefields (some still survive in the army's medical collection). Bontecou also brought along a photographic team from the Surgeon General's Office in Washington, D.C. Moving over the area battlefields, the group created a series of 121 stereo images on glass negatives showing a landscape ravaged by war. Many of the images that will be explored at both Spotsylvania and Fredericksburg were the product of this expedition.

In addition to his work as a photo-historian, John Cummings is also president of the Friends of Fredericksburg Area Battlefields, a non-profit that supports educational programming at local National Park sites.



Living History Weekend
Saturday, May 5th and Sunday, May 6th, 2018
Hear cannon blasts, hoof beats, rifle volleys, and the sound of marching feet! See the uniforms, weapons, equipment, tents and food of the Civil War. Speak with soldiers, civilians, and even General Ulysses S. Grant! Take part in this free, family-friendly interactive experience!
Infantry Demonstrations:
10:00 & 1:00
Cavalry Demonstrations:
11:00 & 2:00
Artillery Demonstrations:
12:00 & 3:00
Soldier Encampments
: Open 10:00-4:00
Meet General U.S. Grant:
Throughout the day
The event is free and open to the public from 10:00 a.m. and 4:00 p.m on both days.
Ellwood Manor is located at 36380 Constitution Highway (Route 20) Locust Grove, VA 22508
For additional information, check our Facebook page, or call 540-693-3200.
Annual National Cemetery Illumination
Saturday, May 26, 2018

On the evening of Saturday, May 26, 2018, more than 15,300 candles will light the Fredericksburg National Cemetery for the twenty-third annual luminaria honoring those who gave their lives for their country.

The program extends from 8:00 p.m. to 11:00 p.m. in the cemetery, which will remain open until the luminaria lights are out. The program's rain date is Sunday, May 27.

This commemoration includes a historical walking tour to view the thousands of lighted candles. Each honors one of the soldiers buried in the cemetery, situated atop the battlefield landmark of Marye's Heights. Taps will be played every 30 minutes.

Due to limited parking, a free shuttle service will operate from the University of Mary Washington parking lot on the corner of William Street and Sunken Road. Handicapped parking will be available in the parking lot behind the Fredericksburg Battlefield Visitor Center, with another shuttle operating between that point and the cemetery.

Please note that pets are not allowed in the cemetery.