Thing to Do
History at Sunset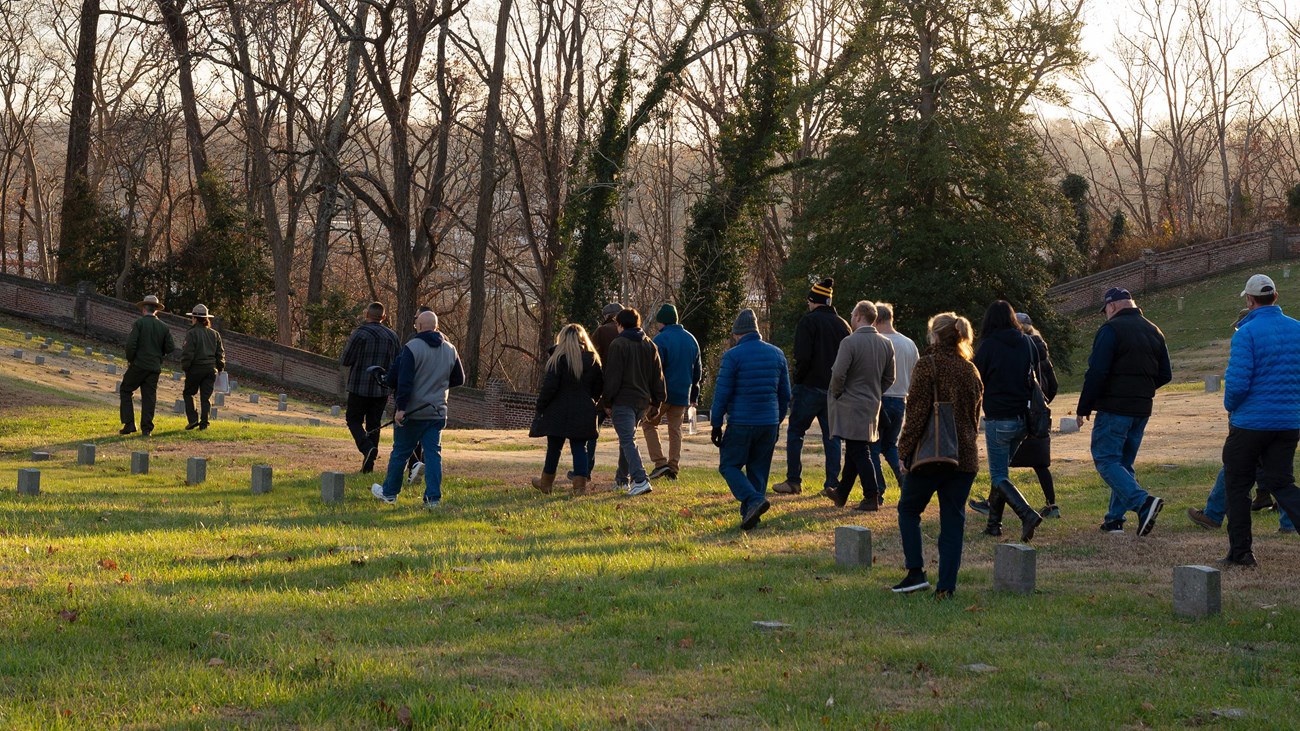 History at Sunset is an annual series that focuses on areas rarely visited, stories rarely told, or familiar sites seen through a different lens. Park rangers lead each History at Sunset program. All programs are free and take place every other Saturday evening at 6:30 pm. Most include walking, with distances ranging from about 0.5 to 1.5 miles. Participants are recommended to bring bug spray and water and to wear sturdy and comfortable walking shoes.
2023 History at Sunset Schedule
All programs begin at 6:30 pm and are about 90 minutes.
July 8 - Jackson Wounding Walking Tour
Join park staff to examine the varying accounts and meanings behind the historical hyper-focus of the wounding of Thomas "Stonewall" Jackson by his own men in the darkness on May 2, 1863. Work together to compare accounts and areas where writers differ. Consider how we analyze these different narratives, work through mysteries and evidence, and better understand the role of memory and the Lost Cause in our collective memory of this fatal night reconnaissance.
Meet at the Chancellorsville Battlefield Visitor Center Picnic Area, 9001 Plank Road, Spotsylvania, VA 22553; includes a short walk around the visitor center; water and bug spray recommended.
July 22 - Scouts, Spies, and Espionage: The Unionist Underground of the Fredericksburg Area
Residents of the Fredericksburg and Spotsylvania area were not uniformly in support of the Confederacy. In coordination with staff from Richmond National Battlefield Park, this tour will examine the role played by Unionists as they fed information to the United States Army, and how the local intelligence group fed into a larger organization of subterfuge located square in the Confederacy's capital city.
Meet at the First Day at Chancellorsville Battlefield parking lot, 6159 Plank Road, Fredericksburg VA 22407; includes a 1.5 mile walk; sturdy shoes, water, and bug spray recommended.
August 5 - Battle in the Balance: Early's Counterattack at Fredericksburg
A Federal breakthrough during the Battle of Fredericksburg ruptured the Confederate defenses and brought the US Army to the brink of victory. Without permission, Confederate General Jubal A. Early led a counterattack that sparked some of the bloodiest fighting at Fredericksburg, drove the Federals away, and restored the Confederate lines.
Meet on the Fredericksburg Battlefield at Tour Stop 6, Prospect Hill, the southern end of Lee Drive; includes a 1 mile walk over uneven terrain, moderate hills, and thick woods; sturdy shoes, water, and bug spray recommended.
August 19 - Germanna Ford: Crossroads of the Rapidan
When soldiers used Germanna Ford in the Civil War, they were traversing a centuries-old crossing of the Rapidan River. Indigenous tribes, English and German colonists, the Marquis de Lafayette, and Civil War armies were all shaped by this location, but also influenced this environment in ways we can still observe today. Join park staff in collaboration with Historic Germanna to learn about the movements of peoples by walking in their footsteps and exploring their marks on the landscape.
Meet at the Germanna Foundation Visitor Center; 2062 Germanna Highway, Locust Grove, Virginia, 22508; includes a 1.5 mile walk; sturdy shoes, water, and bug spray recommended.
September 2 - Reconstruction in Fredericksburg
Join park staff on a walking tour of downtown Fredericksburg to learn about the Reconstruction period after the Civil War. This program will investigate the initial steps that our nation took to rebuild after four years of war, the work of the Freedmen's Bureau in protecting the rights of newly freed people, and the ways that Reconstruction continues to impact our lives today.
Meet at Shiloh Baptist Church (Old Site); 801 Sophia Street, Fredericksburg, Virginia; includes a 1 mile walk; sturdy shoes, water and bug spray recommended. Street parking is available.
Most History at Sunset programs are around 90 minutes long.
All ages are welcome. Programs may deal with topics including war, death, violence, and enslavement. 
Well behaved pets are welcome on most park programs. Pets are not allowed inside park buildings or in the Fredericksburg National Cemetery. 
Fredericksburg and Spotsylvania National Military Park is a fee-free park.
The History at Sunset schedule changes every year, but typically programs begin in the summer and continue into the late summer or early fall.
Programs will take place in the evenings and end around sunset.
Accessibility Information
Most History at Sunset programs include some walking. Check the individual program descriptions for expectations regarding physical accessibilty. 

Assistive listening devices are available upon request (if you need this accomodation and could let us know a day in advance we would greatly appreciate it).

We strive to make our programs as enjoying and fullfilling for as many people as possible. If you or a member of your party needs any accomodations or has any concerns, feel free to contact the park and we will do our best to meet your needs.
Last updated: July 2, 2023