Alerts & Conditions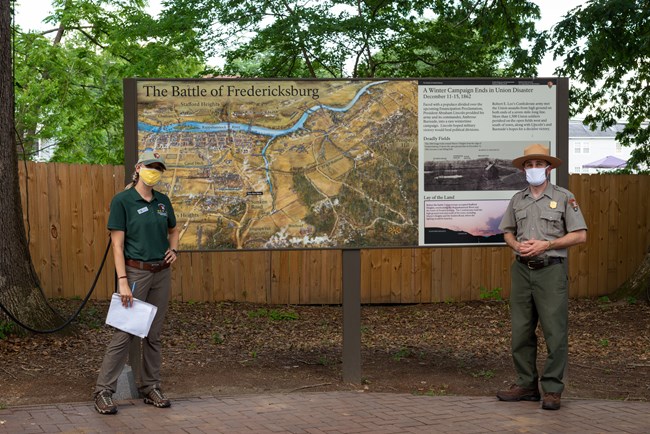 Coronavirus Response (updated 11/09/2020)
Following guidance from the White House, Centers for Disease Control and Prevention (CDC), and state and local public health authorities, Fredericksburg and Spotsylvania National Military Park is increasing visitor services available at key locations in the park. The National Park Service (NPS) is working service-wide with federal, state, and local public health authorities to closely monitor the COVID-19 pandemic and using a phased approach to increase access on a park-by-park basis. At this time, with public health in mind, park visitor centers and historical buildings will remain closed to the public.

Each day that conditions permit, the NPS will have staff available at the Fredericksburg Park Store and outside the Chancellorsville Battlefield Visitor Center to provide orientation and informal interpretation.

The hours of operation will vary depending on conditions and circumstances at each site, each day, including heat, inclement weather, available staffing, and the density of attendance and gatherings.

The NPS recognizes the critical role the park's open spaces play during this emergency, and so the park's roads, trails, and grounds will remain open sunrise to sunset.
The following closures are in effect:
Visitor centers and other public buildings are closed, this closure includes:

Fredericksburg Battlefield Visitor Center

Chancellorsville Battlefield Visitor Center

Chatham Manor

Stonewall Jackson Death Site

Bathrooms are closed, with the exception of Chatham, Fredericksburg, and Spotsylvania Exhibit Shelter.

All public programming is currently canceled. We will be reevaluating visitor services in concordance with current health guidelines.
What can you do?
Practice the principles of "Leave no Trace." Carry out of the park what you carry in; help keep outdoor spaces safe, healthy, and sightly.
Follow CDC guidance for protecting yourself, your family, and your community during this time.
Follow the park via our Social Media channels. We will be sharing park stories in virtual form during this time.
These are extraordinary times. The unprecedented steps our society and community are taking in the name of public health will inevitably entail some unwanted physical impacts on the park itself. Grass will not be mowed. The National Cemetery may soon be in a state that at any other time would be unacceptable. If nature intervenes with storms or floods, we may have to close trails, scenic roads, or significant areas of the park. While unpleasant, all of these things are temporary—they can be remedied once the crisis passes. In the meantime, they constitute some of the burden we will all have to shoulder as we work our way, together, through this emergency.

For current information about the disease and information on how to protect yourself, please visit NPS Public Health Update.

Loading weather forecast...
Last updated: January 10, 2021