Outdoor Activities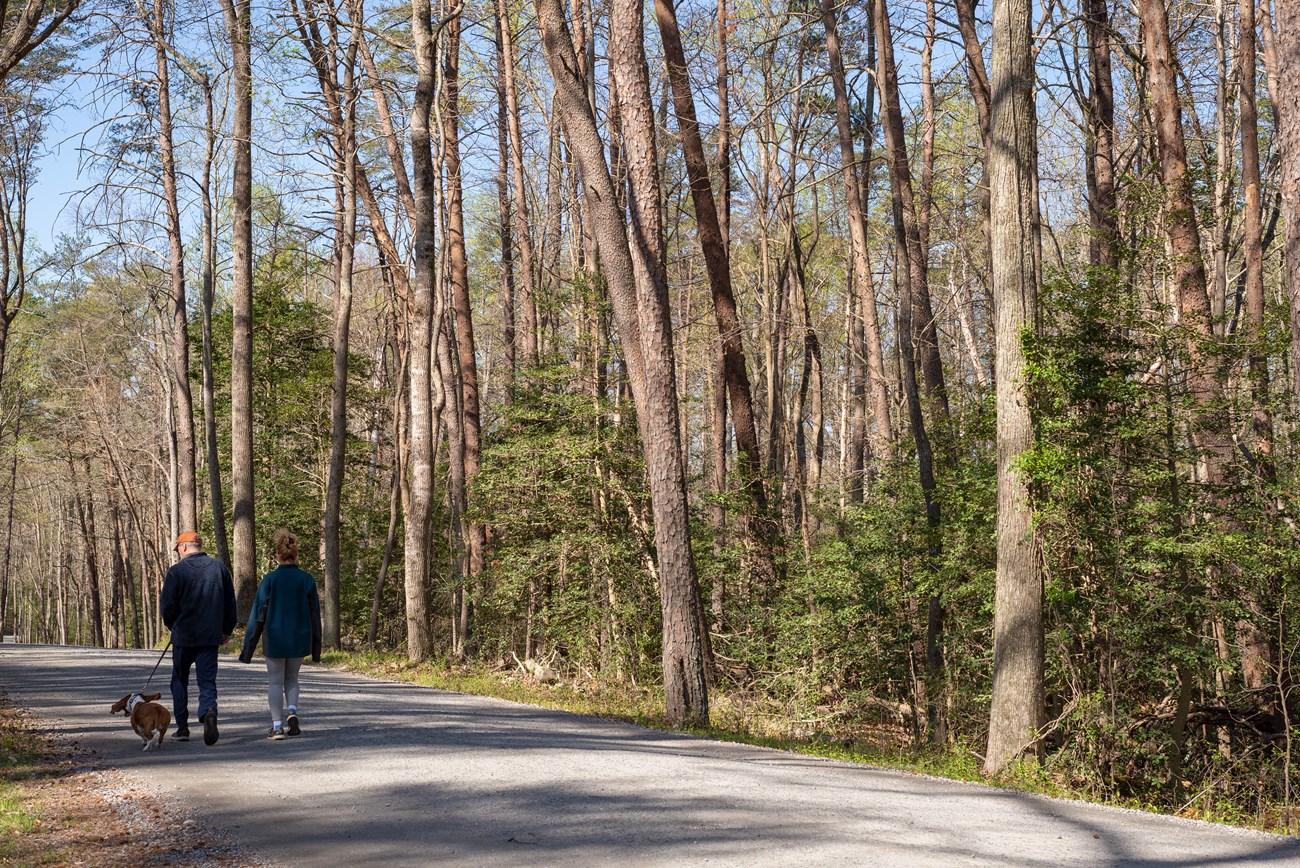 Go Outside
Fredericksburg and Spotsylvania NMP is a great place to experience the outdoors, take a walk, and find quiet contemplation. Learn more about the following outdoor activities:
Each battlefield has hiking trails, ranging from short walks to multi-mile hikes.
For a list of trails available in the park visit the Trails & Brochures page.
Download the NPS App to access an interactive map with park trails.
Hiking Safety
Protect yourself from the sun. Some park trails are located in open fields with very little natural shade.
Bring water! The summer months can be hot and hydration is critical.
Ticks are common in the park, especially in the summer months (but can be found any time of year). Wear protective clothing and do a tick check after being outside.
Bicycles, and e-bikes 750 and under, are permitted along all park roads but are best used on interior park roads. Biking is not permitted on trails. The following roads are popular for biking:
Lee Drive at Fredericksburg Battlefield. South Lee Drive (between Lansdowne Rd and Prospect Hill) has less traffic than the northern section of Lee Drive.
The interior roads at Spotsylvania Battlefield is the most popular biking location in the park, and these roads have less local traffic than other roads around the battlefields.
Sections of Chancellorsville Battlefield (from the Lee-Jackson Bivouac to Catharine Furnace to Hazel Grove, the roads to Fairview and Slocum's Line, and Bullock Road) have less traffic, but fast moving traffic on Route 3 and some of the connected roads surrounding the battlefield will have local traffic that may make biking difficult.
Hill-Ewell Drive on the Wilderness Battlefield has less traffic than other roads, but Route 20 (Constitution Hwy) and the Orange Plank Road on either end of Hill-Ewell Drive can be fast moving, have lots of local traffic, and do not have much space for biking.
Biking Safety
Park roads are all shared with vehicles, some are shared with local traffic, and the park driving routes include fast-moving highways. If you chose to bike in the park, be extra watchful of vehicles.
Park roads do not have designated bike lanes.
Wear a helmet and protective gear including bright clothing and reflective lights, especially if riding in the early morning or towards sunset.
Picnicking is allowed in the following locations (a permit is required for groups larger than 10 people):
Chatham Picnic Area *

Chatham grounds outside the garden walls

Fredericksburg Visitor Center Picnic Area *

Pickett Circle Picnic Area *

Chancellorsville Visitor Center Picnic Area *

Hill-Ewell Drive Picnic Area *

Spotsylvania Exhibit Shelter Picnic Area *

Jackson Death Site Picnic Area *

Jackson Death Site grounds

Ellwood grounds
*Formally established picnic areas with tables. These areas are the only places where containerized fuel stoves are allowed.
Capturing the park scenery through art or photography can be a powerful way to connect with this place. If visiting the park for this purpose make sure not to disrupt other visitors' ability to experience the battlefield by blocking walkways or access to different locations.
Photography for personal use is allowed throughout the park, however, there are many locations and circumstances under which photography activities require a permit.
Learn more about permits
.
Rules & Regulations
While we encourage the use of the park as a space for recreation and reflection, the preservation and protection of park resources as a hallowed ground is our first and foremost priority. As such outdoor activities are restricted in the park.
Park grounds are open from sunrise to sunset.
Sports and other non-passive recreation are prohibited in the park, including, but not limited to kite flying, ball throwing, frisbee, and sledding.
Dogs are welcome to walk with you on park trails as long as they are on a 6' leash (maximum). Pets are not allowed in the Fredericksburg National Cemetery.
If you are planning an activity with a large group of people (25 or more) or outside of the activities discussed here, you may be required to get a permit. Read more about permits.
View the Superintendent's Compendium for more details about park rules.
Last updated: April 5, 2023