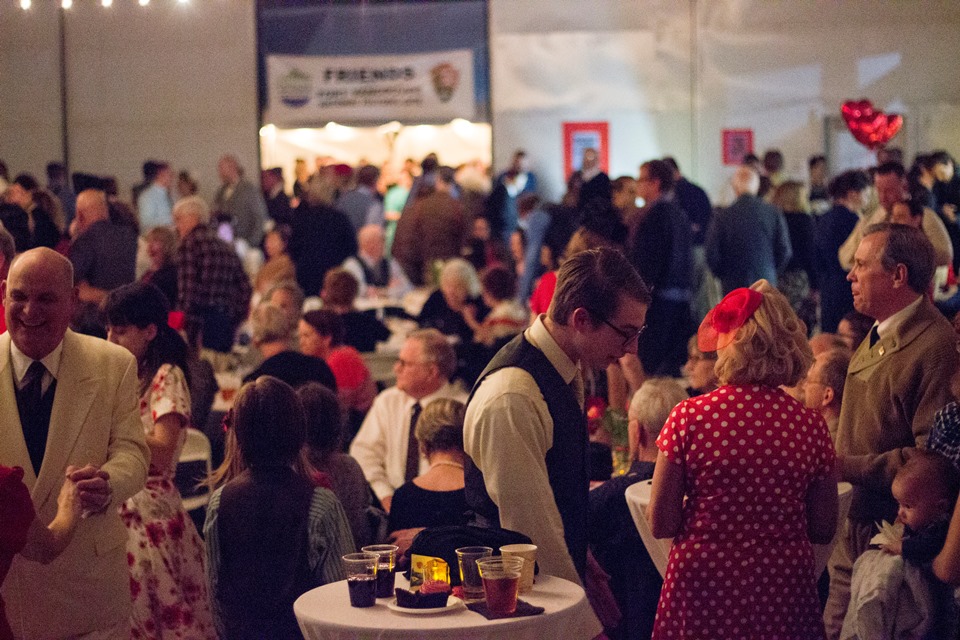 News Release Date:
January 24, 2018
Contact: Mary Rose, Executive Director Friends of Fort Vancouver, 360-816-6216
The nonprofit group Friends of Fort Vancouver is hosting the 2018 Sweet Heart Dance from 7 pm. to 10 pm, Saturday, February 10, at Pearson Air Museum's Historic Hangar
. This annual dance is dedicated to all Allied veterans of World War II, the workers at the Vancouver Kaiser Shipyard, and the men and women on the home front. Music will be provided by the VanPort Jazz Band. The event will also feature a no-host bar sponsored by The Eatery at the Grant House.
President of the Friends of Fort Vancouver, Jane Jacobsen said, "People love to come in costume to join in the fun of the World War II era décor, to dance talk, and just have a wonderful, good time with friends."
U.S. and Allied World War II uniforms and period dress are welcome, but not required. Tickets are $25 per person and must be purchased in advance online or at the Friends of Fort Vancouver Bookstore in the Fort Vancouver Visitor Center, 1501 E. Evergreen Boulevard, Vancouver, Washington. Funds from ticket sales benefit the nonprofit Friends of Fort Vancouver, an organization that supports the educational mission of Fort Vancouver National Historic Site.
For more information or to purchase tickets please call the Friends of Fort Vancouver at 360-816-6216 or visit www.friendsfortvancouver.org
What: 2018 Sweet Heart Dance
Where: Historic Hangar of Pearson Air Museum,

1115 E 5th St, Vancouver, WA 98661
When:
7 pm to 10 pm, Saturday, 10 February 2018
Cost: $25 per person, purchased in advance online or at the Friends of Fort Vancouver Bookstore in the Fort Vancouver Visitor Center, 1501 E. Evergreen Blvd., Vancouver