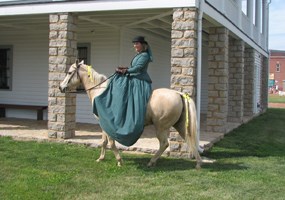 The isolation of many posts meant that diversions depended upon individual ingenuity to assure that an assignment was not "long and tiresome." According to Frances Roe, an army wife in the 1870s, this did not have to be the case. Of course, she admitted that there were a, "few who yawn and complain of the monotony of frontier life," but according to Roe these were "the stay-at-homes who sit by their own fires day after day and let cobwebs gather in brain and lungs." She contended that they were the same "ones who have time to discover so many faults in others and become our garrison gossips!" The active, athletic Roe prescribed that if people took "brisk rides on spirited horses in this wonderful air, and learn to shoot all sorts of guns . . . they would soon discover that a frontier post could furnish plenty of excitement."
While some continued to complain about their "uneventful life," where "the days were all alike, monotonous and tedious," many followed Mrs. Roe's advice. In fact, equitation ranked high as a form of both amusement and exercise even in the pre-Civil War era. Charlotte Swords mentions horseback riding as one of many activities that the women engaged in at Fort Scott. Visiting Fort Leavenworth in the 1830s, artist George Catlin commented that the wives and daughters of many of the officers rode horseback or took excursions in carriages as a means of enjoyment. In the next decade, British geologist George W. Featherstonhuagh, delighted in the fact that Major John Bliss' spouse joined the two men on a ride from Fort Snelling to the Falls of St Anthony.
Some three decades later, Army wives were still expected to carry on this tradition. Lieutenant Frank Baldwin told Frances Roe that she had to "commence riding at once." He offered her one of his horses while another friend lent a saddle until one could be obtained from the East. Baldwin expected no less from his wife, Alice, who had her "own saddle and riding habit." Ellen Biddle's husband also thought it a good idea for her to ride. As a consequence, he bought her a beautiful sorrel mare. The first time Ellen attempted to mount the animal it "threw herself back on her haunches, standing almost straight," then plunged forward and back, striking its rider on the head. Ellen jumped off into her husband's arms. By the next day, when she went down to the stable, she found that the feisty horse had been sold to a rancher. Lieutenant Biddle was not about to expose his wife to another rodeo-style ride.
At Fort Union, New Mexico, Major Henry Lippencott did not resort to such an extreme measure to protect his son, but he did insist that the boy ride bareback to avoid catching a foot in the stirrup. On the other hand, Captain lssac Bowen, at the same post, had no need to take such measures. His wife Katie did not enjoy riding. Instead, she accompanied him in a carriage drawn by two mules whenever he went out on his own steed.
Many of the other officers of the era may not have understood Mrs. Bowen's reluctance since they enjoyed pleasure riding. Some even attributed their good health to this pursuit. In 1844, Captain Ulysses S. Grant went out daily while posted at Fort Jesup, Louisiana. He recovered from a severe cough during this period. Grant felt the cure stemmed from his equestrian exercise.
Whatever the motivation for pleasure riding, horses afforded another pastime which could be pursued even by nonparticipants, racing. Many races were impromptu or informal affairs, although places such as Fort Gibson used a specially constructed track and started a jockey club as early as the 1840s. Tracks also sprang up at such posts as Forts Smith and Van Buren in Arkansas and Fort Leavenworth, Kansas.
Elizabeth Custer left a detailed description of this last mentioned installation's course, which existed on the far side of the reservation away from the town. "There was a little stand for the ladies," and their escorts according to Mrs. Custer. The track was large enough to have hurdle races for sixteen contestants. "These gentlemen riders were in gay jockey costumes, and the bright colors were reflected by knots of ribbons, or scarfs about the pretty throats of the admiring women who looked on." The troops also came out to watch. Supposedly, the men were not allowed to bet, rather they made up for this restriction by boasting about the skills of officers from their company. Evidently, such efforts to prevent gambling actually caused the commander at Fort Gibson to close down his track. He also ordered all gamblers and loafers from the reserve.
The situation was not always as serious, however, since some contests took place simply for amusement. Rather than ride at top speeds over dangerous jumps, a few of the officers at Fort Leavenworth conceived of a slow mule race where the last animal to cross the finish line would win. Seeking out "the dullest and laziest" of these beasts the thirteen participants prepared for the great day. Attired in outlandish costumes and astride such noble sounding steeds as Hard Tack, Symmetry (pronounced see me try), Breakneck and Spavin, the men entered the field. The $50 purse was to go to the support of the widows and orphans left by this gala event. Fortunately, no casualties resulted. Fifteen minutes after the starting gun, the last entry ambled past the finish, the rider "fagged and heated with the whacking he had administered to the unconscious and indifferent winner of the prize."