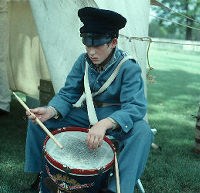 Note: The regulations here apply to military bands and music as opposed to music being played for leisure..
Recruits having talent for, to be instructed
817… The general superintendent will cause such of the recruits as are found to possess a natural talent for music, to be instructed, (in addition to the duties of privates,) on the fife, bugle, and drum, and other military instruments; and boys of twelve years of age, and upwards, may, under his direction, be enlisted for this purpose. Regiments will be furnished with musicians from the depot on requisitions of the Colonels, made from time to time, direct on the superintendent.
For recruiting parties
824… Recruiting parties shall, as far as possible, be furnished with drummers and fifers from the principal depot. Where this may be impracticable, and musicians have not been enlisted, the officers are authorized to engage a drummer and fifer, at a rate, for each, not exceeding twelve dollars per month, and one ration per day, of commutation therefore at the contract price.
Instruments of bands
264… The Adjutant shall be the treasurer of the fund for his regiment, which he will disburse on warrants drawn by the colonel or commanding officer, under specific resolves of the Regimental Council of Administration. He will render, through the colonel, periodical returns of the state of the fund, in the same manner as prescribed for the Post Treasurer, and his accounts will always be open to the inspection of the colonel and Regimental Council. He will be allowed 2 1/2 percent, on all disbursements. The musical instruments, and every thing pertaining to the band, shall be kept by the Adjutant, and also the regimental library and its appurtenances, for all which he shall be held accountable. The colonel, or commanding officer, who approves the appropriations of the council, will be held accountable for all expenditures of the fund not made in accordance with the regulations.
Gaming in camp, garrison or quarters, prohibited
857… Officers of the army charged with the disbursement of public moneys, are strictly prohibited from playing at cards or games of hazard, under penalty of being removed from their staff offices; and all gaming in camp, garrison, or quarters is forbidden.