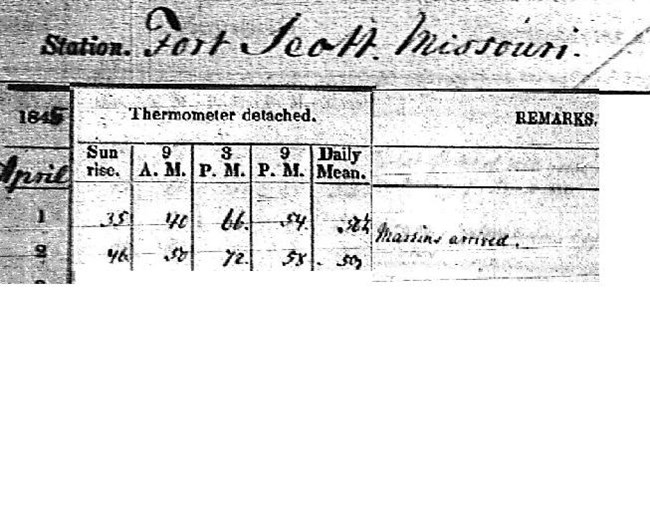 It was the responsibility of surgeons to keep a Meteorological Register, in which the temperature, wind direction, etc. were marked. In 1842, improved instruments for measuring were furnished to the different posts.
Surgeons Mower and Steinecke and Assistant Surgeon Cuyler were asked to prepare a series of rules for taking meteorological observations that would provide greater consistency in the reports. The new books were to show the "result of observations of the thermometer, direction and force of winds, clearness of sky and fall of rain and snow, with a special report on the prominent features of general climate in the United States, as exhibited in the distribution of temperature, and of rain." Charts gave the mean distribution of temperature for each season of the year.
From 1843 to 1845, the meteorological observations were taken "a little before sunrise, 9 a.m., 3 p.m. and 9 p.m." The original registers were sent monthly to the Surgeon General's office. Though never published, they were consulted by officers engaged "in the explorations for a railroad from the Mississippi River to the Pacific, and in boundary surveys, and also by persons desirous of elucidating some special point in meteorology."
The records were taken at times by hospital stewards, so the accuracy was questionable. Nevertheless, these records provided the first scientific information regarding the climate and condition of the great new country that now stretched from coast to coast. From such crude information, however, James P. Espy, a meteorologist in the War Department, developed and published his Philosophy of Storms in 1841. Here was the forerunner of the Weather Bureau maps of today. As a footnote it might be noted also that the Signal Corps originated as a hobby of a medical officer, Assistant Surgeon Albert J. Myer, the man for whom Fort Myer is named. He organized signaling in the army, and on June 27, 1860, was commissioned Major and Signal Officer, the only one in the army.
The information for this section was taken from the Historic Furnishing Report for The Hospital by Sally Johnson Ketcham.