Post Hospital - Overview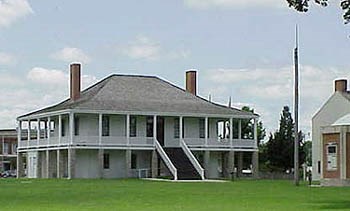 Have you ever stayed home sick from school or work without actually being sick? You might not have wanted to do that here at Fort Scott in the 1840s, because if you weren't sick when you went into the hospital, chances are you got sick in the hospital.
Sick and wounded soldiers could be treated at the hospital, which was designed with the health and recovery of the patients in mind. High ceilings on the second floor allowed for better ventilation and porches surrounding the building meant open air, where soldiers could convalesce and perhaps be restored to good health. A surgeon was in charge of the medical team that would provide treatment; however, the surgeon was the only one who received formal medical training. Despite the design of the hospital and the training of the surgeon, treatment here often impeded recovery rather than aiding it, due to the medical practices of the time.
The hospital is on the southern end of the fort, and is thus able to take advantage of the predominantly southerly breezes that prevail during most of the year in Kansas. Historically, the lower floor consisted of the surgeon's office, storerooms for supplies, and perhaps sleeping facilities for hospital stewards, while two wardrooms were on the second floor.
The hospital was sold in 1855 to the City of Fort Scott and used for civic activities until the Army reactivated it again in 1861 for use during the Civil War. It and the old guardhouse and several other buildings were used extensively to treat the wounded from such engagements as the Battle of Mine Creek and the ambush at Baxter Springs.

After the Civil War, the hospital was the home of the Fort Scott Colored Public School, where George Washington Carver attended school for a brief time.

The building was later used as a bus barn and a furniture warehouse before being restored. The building currently houses the site's visitor center.

Last updated: October 18, 2017