Post Bakehouse - Oven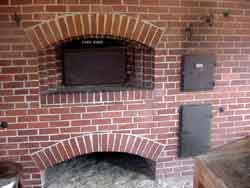 The oven fire was kindled at about the same time that the dough was set out to raise. The oven would be ready in about an hour when the loaves had raised. However, the first time an oven was heated after a long period of time, a large fire was left burning in it for six to eight hours. This transferred heat to the bricks and unless this was done, the bread did not bake well. One means of building a hot fire in a brick oven was by burning small twigs and pieces of hard wood, which gave a very hot fire. After the fire was no longer red, the ashes were shoveled out with an iron peel. The ashes were saved, if there was an ash pit below, for soap making, Without gauges, it was hard to estimate the temperature of the fire. One test was to toss a little flour inside, then close the door for one minute. If the flour browned nicely, it was ready, but if it scorched black "the heat was too furious." A too-hot oven was allowed to stand open three or four minutes to reduce the temperature. Ovens could be cooled also by wetting a broom two or three times and turning it around and around near the top of the oven until it dried.
Once the bread was in the oven, judging the baking process was difficult. A sturdy wrought iron candleholder on the end of a long pole, which had also a rigid hook, if available, could be inserted inside the oven by the baker to see how things were going. It also enabled him to move his pans about within, if it was deemed desirable. By the Army standards, the bread "ought not to be burnt, but baked to an equal brown color." If the oven was not hot enough during baking to brown the crust, this could be remedied by waving a salamander (a huge heavy thick iron device like a short peel) over the crust to darken it. Good bread, according to regulations, had a crust that was not detached from the crumb and upon opening it, when fresh, one smelled a sweet and balsamic odor.
Information for this page was taken from the Historic Furnishing Plan for The Bake House by Sally Johnson Ketchum.
Last updated: July 26, 2016