Post Bakehouse- Making the Bread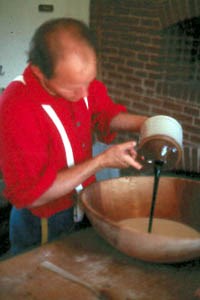 It was not until late in the nineteenth century that the Army finally compiled and issued recipes or instructions for making bread. Bread can be made many ways, and it is not surprising that medical officers found both good and bad bread on the mess table, depending upon the abilities of the men on bakery duty. Instructions given here are for bread making techniques in use during the first half of the century. They are not Army directions and are for ten loaves only, an insignificant number in terms of company mess, but it is the method that is relevant.
First, a sponge was made from a pint and a half of thin water gruel, which used a little more than half a teacup full of fine ground Indian meal. Salt was added to the gruel, which was boiled ten or fifteen minutes. The latter was done to prevent the bread from having a coarse taste. Milk to make two quarts was added. In the summer, less than fresh milk, which did not have to be scalded, could sour the dough. Since milk was not always available, bread could be made with water. When water was used, saleratus or baking soda was added, but this left an odor and a deep yellow color to the bread. It should be noted here, however, that purchases made by the Commissary at Fort Scott in 1849 from the Post Sutler included corn meal, milk, and saleratus.
When the mixture had cooled, a small teacup of yeast was added and then enough sifted flour to make a thick batter. In the summer, the sponge was allowed to set overnight in a cool place and in the winter, in a warm place, until morning. Flour was then added to the sponge, until it could be kneaded thoroughly. The secret of all good bread is the kneading. Fists were pressed hard and quickly into the dough, and whenever necessary, they were dipped into a pan of flour to prevent sticking. A half an hour was recommended for this, unless the dough was chopped with a chopping knife four or five hundred strokes. After being shaped into loaves, the dough was placed in greased pans and allowed to rise.
If the bread rose slowly, it was permissible to take warm water and pat the top. This also was done before the loaves were put in the oven to prevent the crusts from becoming too hard. Care had to be taken that the bread did not rise too long, for when this happened it was likely to be sour and have an "insipid" taste.
Bread Recipe
MAKING A SMALL BATCH OF BREAD (APPROXIMATELY 10 LOAVES)
Into a heavy ironstone bowl, place nine cups of warm water.

Into one cup of warm water place three tablespoons of dry yeast.

Let yeast stand until action begins, then pour into bowl of water.

Into bowl of water put four tablespoons of salt, stir.

Into salt and yeast water add flour slowly making a thin paste.

Add flour until paste becomes stiff and forms heavy dough.

Add flour until dough is heavy and smooth.

Knead well on floured table.

Wash out bowl.

Grease inside of bowl with lard.

Place dough in bowl and let stand in a warm place to rise.

When dough is risen enough it will start to run over sides of the bowl.

Punch down.

Scale off in twenty ounce loaves.

Place in well-greased bread tin.

Cover with cloth and let rise.

When loaves have risen to a nice round crown, bake.
Information for this page was taken from the Historic Furnishing Plan for The Bake House by Sally Johnson Ketchum. The recipe that is used is printed in Fort Laramie's Historic Furnishing Plan.
Last updated: July 26, 2016