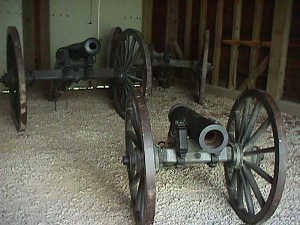 The artillery were the most formidable weapons used by the military in the nineteenth century. Artillery could fortify a position, provide defense against invasion and attacks, open up holes in enemy lines, and rain destruction down on opposing forces. Artillery often turned the tide of battle; those who held the high ground often were the victors in battle and artillery helped armies to hold the high ground.
Artillery pieces were present at Fort Scott, but they were used strictly for ceremonial purposes. They were never fired in anger. But soldiers from Fort Scott did use artillery for other purposes while out on campaign to impress the miilitary strength of the U.S. Army upon the Native Americans and others they came in contact with.
During this station, presenters will talk briefly about the significance of the artillery, but will likely want to focus on how it was fired and will take students through a mock artillery drill.
The program will be given in or near the artillery shed, which is located in the post headquarters building.
This structure was completed in 1848. It contained the post commander's office, his adjutant's office, a court martial room, an ordnance storeroom, and the gun shed which occupied the north part of the building.
There were two 6-pound field artillery pieces which were in use at Fort Scott from 1845 to 1853. The evidence indicates that the 6 pounders were made of iron, and were susceptible to the weather. The gun shed served as a safe storage area to protect these pieces from the weather. Also present in the shed is a mountain howitzer, which was not present at Fort Scott, but would have been used by dragoon soldiers out on campaign.