Artillery - Historical Background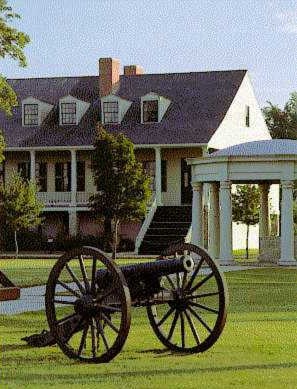 For the first time in the first quarter of the 1846 Ordnance Books of the Army, Fort Scott is recorded having two 6-lb. field iron cannon, with carriages and equipment. The 6-pound field cannons must have been made before 1835 since the 1841 Ordnance Manual says that after that date, 6-pound guns were made of bronze. Fort Scott never had all the accoutrements for artillery required of the 1841 Ordnance manual. In 1846, the artillery ammunition on hand was: 20 6-pounder strapped shot, 53 6-pounder canister shot, and 174 6-pounder shot fixed.
Western forts in the 1840s relied on "Instant Artillery" to fire the 6-pound field guns. "Instant Artillery" was either Infantry or Dragoon soldiers assigned as a collateral duty of serving on the Artillery. True artillerymen were stationed at seacoast fortifications such as Fort Sumter to protect the United States from foreign invasion by sea. Primarily in the 1840s, the most likely enemy would have been England.
Artillery was never fired in anger at Fort Scott. The 6-pound gun would fire blanks in the morning during the raising of the garrison flag and in the evening during retreat parade, i.e., the lowering of the flag. Occasionally, the gun was fired in a ceremonial salute such as in celebration of the 4th of July, the visit of an important officer, or the death of a president.
Another type of weapon used by dragoon soldiers was the mountain howitzer. No record exists of there being a mountain howitzer at Fort Scott, however, there would've been howitzers at the regimental headquarters at Fort Leavenworth. Historical accounts of the dragoon expedition in 1844 mention the dragoons using the howitzers to impress the Pawnee. The mountain howitzer, a smaller weapon than the field pieces, was designed so that it could be disassembled and transported by horseback or mule. Therefore, it could be transported to and used in rugged terrain.
Cannons were classified by the weight of the solid shot that was fired out of the gun. For instance, a 6-pound field gun would fire a solid iron ball that would weigh 6 pounds for a distance of just shy of 1 mile. A 12-pound mountain howitzer, actually a smaller gun with a range of only 1000 yards, would fire a solid round weighing 12 pounds, thus the artillery shot was actually larger than the bigger 6-pound field gun.
Information for this section was written by staff at Fort Scott NHS.
Last updated: July 30, 2016