Plan Your Visit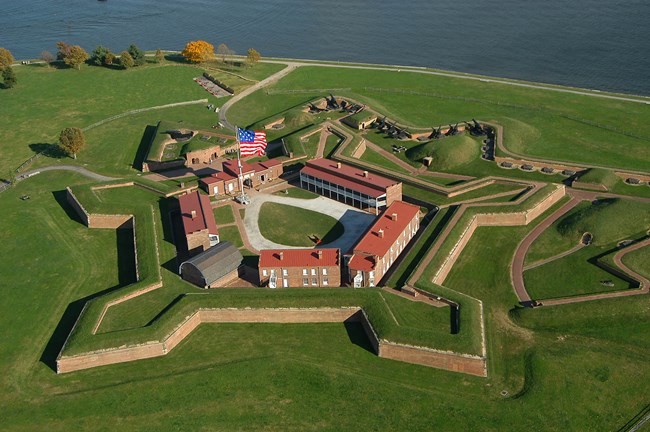 Visiting Fort McHenry
Visitors to Fort McHenry National Monument and Historic Shrine can start their visit before leaving home. Download the new
NPS App
which is the official app for all 420+ NPS sites. The NPS App will act as your virtual visitor center! You can also see the movie that is usually shown in the visitor center which is available on our
multimedia page
on our website and is a good way to become familiar with the park's history. Virtual tours, self-guided tours, other videos, and photo galleries are also found on the same page on our website.
For more ideas on how to visit Fort McHenry NM&HS, make sure to visit the park's
Trip Ideas
page.
Entrance Fees to Historic Zone and Star Fort
Fee collection of $15 for visitors, ages 16 years and up, has resumed for entrance to the historic fort. Daily entrance tickets are good for 7 days and can be purchased prior to visiting online at
recreation .gov
or in the park visitor center. Onsite registers are open from 9:00 AM-4:00 PM September-May, and 9:00 AM-5:00 PM in the Summer (Memmorial Day-Labor Day). Other federal passes such as the Senior Pass, Annual Pass, and the Access Pass will be accepted. America the Beautiful passes can be purchased onsite or ordered online at the
USGS Store
. Your fee dollars allow the parks to complete important historic restoration projects that preserve our nation's treasures. More information can be found on our
Fees & Passes
page.
Self-Guided and Virtual Tours
The fort is self-guided. There are several
virtual and self-guided tour
options that allow visitors to view all exhibit areas and have a guided experience via smart device.
Purchase Entry Passes ahead of Time
The admission fee for the park's Historic Star Fort ($15) will apply to adults, ages 16 and up, for entrance to the historic Star Fort. Visitors are encouraged to purchase the 7-day entrance fee pass online prior to visiting at recreation .gov. 


Last updated: January 6, 2023