Fees & Passes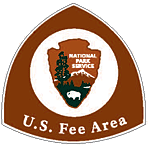 Entrance Fees
The entrance fee to the historic area of the park is $15.00 for adults 16 years of age and older; children 15 and younger are free. This fee provides the visitor with a 7-day entrance permit to Fort McHenry National Monument and Historic Shrine. You must keep your entrance
receipt to re-enter the park in the 7-day time period. 'America the Beautiful' or the Fort McHenry annual passes are alternatives to the above fees. All passes can be purchased or obtained at the Visitor Center Information Desk during normal operating hours.

Fort McHenry Annual Pass
Frequent visitors to Fort McHenry National Monument & Historic Shrine may want to purchase a Fort McHenry Annual Pass. This $45 pass provides entrance to the pass owner and three (3) additional adults.
The pass is valid for 12 months from the date of purchase.


'America the Beautiful' Passes
Valid 'America the Beautiful' National Parks and Federal Recreational Lands Passes can be used to cover the cost of admission for the passholder and up to three adult guests. Passes may be purchased at Fort McHenry, online (USGS website), or at any of the following parks that charges an admission fee.
2019 Fee-Free Days
National Parks across the country will waive entrance fees on the following days:
Monday, January 21 - Martin Luther King, Jr. Day
Saturday, April 20 - First day of National Park Week
Sunday, August 25 - National Park Service anniversary
Saturday, September 28 - National Public Lands Day
Monday, November 11 - Veterans Day
Academic Fee Waiver
The Federal Lands Recreation Enhancement Act (FLREA), Public Law 108-447, provides the National Park Service statutory authority to allow "outings conducted for non-commercial educational purposes by schools or bona fide educational institutions" to obtain a waiver of park entrance fees. A school or educational institution is defined as one which grants some type of educational credit.
In order to qualify for a waiver, a group must meet all of the following criteria:
Educational and scientific groups must submit proof of official recognition as an accredited institution by a federal, state, or local government entity. Private schools or other scientific institutions may submit documentation of tax-exempt status granted for educational purposes.
The intended trip must relate directly to the educational or scientific purpose of the visit and to the unique features and resources of Fort McHenry. The visit "shall not be primarily for recreation purposes".
How to apply:
Complete the Application For Waiver of Fees For Educational Study form and e-mail it, along with the criteria listed above, to Group Arrangements.
The application and documentation must be received at least two weeks in advance of your visit.
Call 410-962-4290, extension 243 for additional information.
Last updated: August 10, 2019